Miley Cyrus Offered to Clean a House Naked for a Great Cause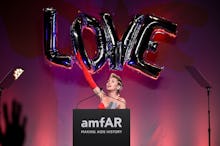 "My left boob is awkwardly bigger than my right one, and I'll show you the left one," Miley Cyrus said Tuesday evening at the American Foundation for AIDS Research's Inspiration Gala in New York, according to Cosmopolitan. 
The charity event was in the process of auctioning off a piece of Cyrus' artwork, but the price stalled at $65,000; to encourage the bidding to go up, Cyrus offered her personal (read: naked) housecleaning services to a room of bidders. It only took two minutes for the bid to reach $69,000, and the item — personally bejeweled Vanity Fair covers featuring Caitlyn Jenner — was sold.
The proceeds of the artwork went to amfAR, which was was honoring Cyrus as an advocate for HIV and AIDS research. Before the night was over, she delivered a touching and emotional speech.
"There are so many people around the world right now that deserve this recognition," she said, according to Cosmo. "And they've dedicated their lives to finding a cure ... and by receiving this award tonight, I promise to continue to fight along with such an industrious army for a cure for this epidemic."
 Cyrus proved yet again that using your assets for good can have amazing results. 
This latest gesture adds to the long list of her recent charitable efforts. Cyrus recently posed nude on the cover of Paper magazine to spread the word about her new charity, the Happy Hippie Foundation. The organization helps homeless youths, a disproportionate number of whom are LGBT. Also in that magazine interview, Cyrus told the world that she's gender-fluid, a statement from a superstar that could go a long way in helping others with a similar identity. 
Love her or hate her, you've got to admit — Miley's a charitable force on the front lines.