An NRA Official Just Blamed a Charleston Victim For His Own Death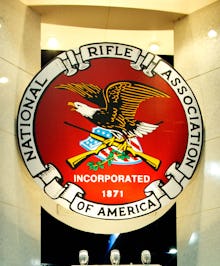 With America in mourning Friday after the massacre in Charleston, South Carolina, a senior member of the National Rifle Association went online to offer his assessment of the tragedy. 
In a web forum, NRA board member Charles Cotton blamed pastor and state senator Clementa Pinckney for his death and the deaths of eight others by voting against concealed-carry laws.
"He voted against concealed-carry. Eight of his church members who might be alive if he had expressly allowed members to carry handguns in church are dead. Innocent people died because of his position on a political issue." 
Far from just being against concealed carry, Pinckney was also a vocal critic of gun use in America. In his own state, he was known for leading protests against police violence after Walter Scott, an unarmed black man, was killed by an officer in North Charleston, South Carolina. 
The NRA's official pro-gun response after a national gun tragedy continues a consistent pattern of behavior over the years. After gunman Adam Lanza murdered 20 children and six adults at Sandy Hook elementary school in Newtown, Connecticut, in 2012, the NRA suggested schools be provided with armed guards to prevent against similar violence in the future. Keeping guns away from people like Lanza didn't figure much in NRA Executive Vice President Wayne LaPierre's official remarks on the subject.
In 1999, shortly after the Columbine, Colorado, high school shooting, then-Denver Mayor Wellington Webb made a personal appeal to former NRA chief Charlton Heston to cancel a planned NRA rally in the city. Webb told the Hollywood star and gun activist, "Don't come here." But the rally went forward anyway, and Heston openly mocked the mayor's plea on stage. 
Whether or not you agree with concealed-carry laws that would allow churches to keep a pistol under the pulpit is beside the point. Dylann Roof is the only person responsible for the Charleston massacre. Rather than reflexively seeking justification after each new tragedy, the NRA could be focused on constructive solutions to stem gun violence in America. Keeping weapons out of the hands of people like Roof or Lanza could be a good start.