Here's What "Vagina Beauty Pageant" Is Really All About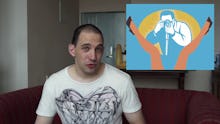 Here is the world we live in:
1. There is now a website called VaginaContest.com.
2. Yes, it is a contest for the world's most beautiful vagina.
Or, as its founder likes to call it, a "vagina beauty pageant." Brian Sloan, founder of the Autoblow2, a male sex toy company, recently announced a contest to discover the best IRL vaginas, in order to use them as models for a new kind of vagina sleeve (one of the more common "male masturbator" sex toys). 
The contest, as reported by the Daily Dot, will be made up of user submissions, meaning women are being encouraged to send in pictures of their own vaginas. The winner and runners-up will be determined by online votes.
"I just want to make the best of whatever I'm making, so naturally I want the best vaginas," Sloan told Mic in an email. "This contest will tell me (and the world) what men want when it comes to vulva appearance."
In other words, it's all about sex tech innovation — but with a few problematic twists.
How it works: After women upload their V-pics to the site, visitors will rate them on a scale of 1 to 10. The top three finalists will each be 3D-scanned, which will be used to create models of their parts. Then, "magic will happen at the factory and we will produce Autoblow sleeves that are exact replicas of the winners," Sloan said. 
Why a crowdsourced beauty contest, rather than rely on professionals models? Sloan said the customer wants something more realistic.
"We sell most of our Autoblow 2's online direct, but the chain sex shops who also buy it from us keep telling me that they sell 10 times more vagina masturbators than they do mouth masturbators," Sloan said. "They practically begged me to make them a model that comes with a nice vagina sleeve."
Positive innovation? Improving vagina sleeves is part of a recent boom in "sex tech" innovation, as entrepreneurs aim to improve the sexual experience with new vibrators, apps, trackers and other digital doodads. Many of these business owners are turning to crowdfunding sites such as Indiegogo, as Sloan did in 2014 for his Autoblow 2 blowjob simulator sleeve.
But while advancements in the field of sex tech is an undoubtedly noble pursuit, and the spirit of the competition speaks to the idea that men have varying tastes when it comes to physical sensations, critics may note that judging and ranking women's vaginas can be problematic. 
Determining what the "best" vagina is, however, especially based on appearance, doubles down on the already pervasive judgment of women's bodies by men. Just as with body shape or breast size, vagina appearance has become a real insecurity as women try to conform to a "desirable" aesthetic standard. As filmmaker Lisa Rogers explored in her documentary The Perfect Vagina, that insecurity has driven women to the plastic surgeon's office, and a 2013 study found "aesthetic concerns" are the most common reason women undergo labiaplasty.
Tempting though it is to compare this so-called "vagina beauty pageant" to the recent Small Penis Pageant, the latter was all about validating all body shapes and sizes. This vagina contest, like most beauty pageants, has the potential to double down on proven insecurities. 
But Sloan maintains that allowing men to rate them on the website is necessary for the success of his product.
"I just want to give men exactly what they want in terms of vaginal appearance on their masturbation aides," Sloan said. "Without a contest, I'd just be guessing."
h/t Daily Dot