Rihanna Officially Has More No. 1 Dance Hits Than Beyoncé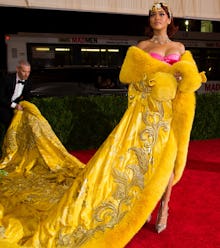 Beyoncé has worn the crown so long, "Queen" has become part of her name. But as of Thursday, the structure of our pop aristocracy changed. Billboard announced Rihanna has surpassed Beyoncé for most No. 1 dance/club hits.
Rihanna's latest, "Bitch Better Have My Money," is her 23rd No. 1, while Beyoncé has 22. It's hard to think of a more perfect rallying cry for Ri to sing as breezes past the once and former Queen.
Hits for days: Rihanna's first No. 1 on the Dance/Club chart came in 2006 with "SOS (J. Nevins/Chris Cox Mixes)," and over the years she's built a truly unfuckwithable catalog. 
Her trap-inspired "Bitch Better Have My Money" take its place alongside "Umbrella," whose simple chorus has surprisingly not grown annoying with age; "Don't Stop the Music," with its Michael Jackson-inspired hooks and bridges; and the tragically beautiful "We Found Love," which has one of the best pop music videos in recent memory.
Only one remains: Only one artist still stands above Rihanna and Beyoncé for the top spot — the true matriarch of dance, Madonna. She's earned herself an awe-inspiring 45 No. 1s. 
And she may have more on the way. 
Next week, her latest "Bitch, I'm Madonna" is set to make its chart debut. And with a strong verse from Nicki Minaj and a star-studded ADD-inducing video, it might just give her 46. But Madonna's got some years on both Rihanna and Beyoncé. They'll be coming for that top slot soon enough.
More coming. She'll have even more coming soon. Her new album will likely be a surprise dropping any time now. And Rihanna has promised us a classic.
"I wanted songs that I could perform in 15 years, I wanted an album I could perform in 15 years," she told MTV of the album, according to Glamour. "I find that when I get on stage now, I don't want to perform a lot of my songs. They don't feel like me. So I want to make songs that are timeless."
Get 'um Ri.
h/t Billboard