Delaware Just Became the 20th State to Decriminalize Marijuana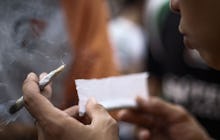 On Thursday, Delaware's governor signed a bill into law that decriminalizes the possession of up to one ounce of marijuana. That brings the number of states that have decriminalized small amounts of the drug to 20, according to the Huffington Post. 
Under the new law, marijuana sales are still prohibited, but possession is no longer considered a crime that warrants the intervention of the criminal justice system. Instead, being caught with marijuana is akin to committing a traffic violation, prompting a civil fine of $100.
The bill was passed without the support of a single Republican in the state legislature, according to USA Today.
Why decriminalization matters in Delaware: Decriminalization laws will make the state's marijuana users feel more relaxed about casual possession and use, and could potentially help normalize the status of the drug in a manner that eases future legalization measures.
Decriminalization should also have an immediate and significant impact on Delaware's criminal justice system and those who are most prone to being targeted by it.
"Adults in Delaware will no longer be branded as criminals simply for consuming a substance that is undeniably less harmful than alcohol. Law enforcement officials will be able to spend more time addressing serious crimes instead of arresting and prosecuting adults for simple marijuana possession," Robert Capecchi, deputy director of state policies for the Marijuana Policy Project, said in a statement, according to the Huffington Post.
The shift in focus away from pursuing casual drug use will be of particular importance for the state's black population.
According to the American Civil Liberties Union, African-Americans in Delaware are arrested at three times the rate of white Americans. National trends indicate these disparities are not a reflection of usage rates and exist even when marijuana use among black populations is similar to white populations.
Why decriminalization matters for the country: Decriminalization measures have been garnering more attention across the country recently because they stand at the intersection of a variety of emerging public policy trends: increasing skepticism of the war on drugs, regret about the racial caste system that's been produced by mass incarceration, and a steady rise in the public's comfort with marijuana. Delaware's law is yet another subtle indicator of a shift in national attitude that could have momentous effects in the long run.