This Has Been the Best Week Yet for Bernie Sanders' Campaign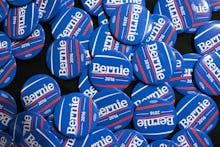 Hillary Clinton won't say his name in public, and the Clinton campaign has rigorously avoided casting their candidate in opposition to him. The Democratic presidential frontrunner has gone the route of ostensibly ignoring Bernie Sanders, the independent senator from Vermont, and his ascendant campaign. 
But after a week like this, one has to ask: How much longer can Clinton go on acting as if Sanders isn't a threat to her White House dreams?
The Sanders surge is real, and several developments this week have shown why he should be considered a force to be openly reckoned with in this quickly escalating Democratic primary race.
Recapping the week: Sanders is raising money — $6 million in small donations from more 150,000 supporters — and closing ground on Clinton in the New Hampshire polls. A Suffolk University survey published Tuesday showed Sanders trailing by only 10 points in the Granite State. Two days earlier, a poll from Morning Consult revealed a 12-point gap:
In late April and May, Sanders trailed by 38 points. That was when liberals were still waiting, trying to coax Elizabeth Warren, the senator from Massachusetts, into the fray. But Warren, true to her repeated promises, is out and her backers are beginning to migrate into what should be an easy alliance with the Sanders team. On Friday morning, Ready for Warren, the group most responsible for galvanizing support for a run, officially swung their support to Sanders. 
"While Warren is the champion who inspired this movement, the draft effort was never just about her — it's about her message and the values she represents," Ready for Warren campaign manager Erica Sagrans and co-founder Charles Lenchner wrote on CNN.com. "Bernie Sanders has caught fire in a way that's reminiscent of the draft Warren movement itself — from the Internet to town halls in Iowa, Sanders has captured the imagination and support of people looking for a real progressive challenger in the 2016 Democratic primary.
Hot ticket: Then there are the crowds. The size of an audience at a political rally is ripe for overstatement — campaigns tend to boost the numbers and reporters have a habit of overestimating their usefulness for measuring the candidate's popularity or momentum. That said, there is nothing in American politics in 2015 like a Sanders event. Where Clinton's kick-off event was a business-like affair, Sanders' first big rally, in Burlington, Vermont, last month was a roaring love fest. 
Two times this week, the Sanders campaign has been compelled to move scheduled events to larger venues in order to accommodate growing crowds. 
While that might not mean much in New Hampshire, right next door to his power base in Vermont, finding that level of demand in Las Vegas and Charleston, South Carolina (the latter event was canceled after the massacre at Emanuel African Methodist Episcopal Church) is a wholly different animal. Whatever happens next year in Iowa and New Hampshire, hosts to the first two primary contests, the race will be won and lost in states where neither Sanders or Clinton has a natural fan base.
Setting the agenda: While Clinton is sure to have the cash to carry a robust campaign in all 50 states, Sanders is increasingly taking control of the narrative. On a number of occasions, it has appeared as though Clinton, still a heavy frontrunner in every national poll, is using Sanders as her political pace car. 
"Bernie resonates because he talks about issues that matter, like income inequality and the decline of the middle class, and because he has detailed specific proposals to change that — like tuition-free college, expanded Social Security, increasing the minimum wage to $15 an hour, changing our disastrous trade policies that have sent millions of good-paying jobs to low-wage countries overseas, pay equity for women, affordable child care and the list goes on," Sanders aide Michael Briggs told Mic on Friday. 
Clinton, though careful to acknowledge many of these issues, has been more deliberate in rolling out her own policy ideas. Her announcement this week that she would seek to grow government-regulated apprenticeship programs by offering tax credits to businesses who hire them was effectively overshadowed and washed out of the news cycle by discussion of Sanders' spike in the polls and growing momentum on the ground.
There are still more than seven months before Iowans set out to caucus in the first contest of the 2016 primary race, but for Sanders that only means more time to build on weeks like this one, when his message felt timely, his support showed real signs of growth, and Clinton looked — just maybe! — beatable.