Only 24% of Sub-Saharan Africa Has Access to Electricity. This Man Is Changing That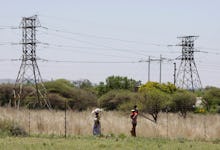 In sub-Saharan Africa, only 24% of the population has access to electricity, according to the World Bank. A lack of electricity keeps businesses from growing, clinics from storing medicine and people from getting around safely in their communities. 
Siya Xuza, founder and CEO of Galactic Energy Ventures, recognizes what changing that could do for the people in these countries.
"Over 620 million people in sub-Saharan Africa live without access to electricity," Xuza told Mic. "Imagine the potential of 620 million people with access to reliable and affordable power."
Xuza, a native South African, realizes that getting reliable energy sources to this many people is going to take more than just building a bunch of power plants. With Galactic Energy Ventures, he's searching for creative solutions that could shake up the existing energy markets for a more efficient solution. His company invests in ideas that could create that kind of innovation. 
Even before founding his current company, Xuza has been a longtime engineering entrepreneur. He first began experimenting with rocket fuel recipes as a kid in his mother's kitchen. Those experiments turned into the creation of a cheaper and safer rocket fuel. In 2007, his original rocket fuel won first place in the Intel International Science and Engineering Fair. 
According to the Journalist, after winning the prize, Xuza said, "I realized that Africa, South Africa, is equally capable to compete head and shoulder against the world when it comes to innovation — the greatest minds, we are equally capable. Nothing is impossible." 
This same belief has driven his career in entrepreneurial engineering. He studied engineering sciences at Harvard University, where he worked at the Harvard Center for Nanoscale Systems and the Massachusetts Institute of Technology's Microsystems Technology Laboratories on microfuel cell research. 
He's also the youngest member of the African Union-affiliated African 2.0 Energy Advisory Panel, and has been recognized by the World Economic Forum as a global shaper. The NASA-affiliated Lincoln Laboratory even named a small planet "Siyaxuza (23182)" in his honor after his win at the Intel Science and Engineering Fair. 
Despite his many accomplishments at a young age (he's 26), Xuza remains focused on searching for solutions to the energy problems in Africa. He is excited for what access to reliable energy sources will look like in the near future. 
"A future powered by personalized energy systems truly excites me," Xuza said. "Our energy systems are largely controlled by utilities. In the future, affordable and efficient solar panels, combined with cheap storage systems, will turn homes into personal power plants." 
Until that happens — or until more reliable energy sources make their way to sub-Saharan countries — Xuza remains hard at work.