Taylor Swift Nails the Most Important Part of Friendship We Often Overlook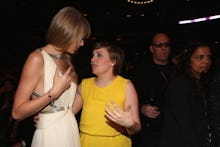 Although we're living in the Age of Flakiness, Lorde and Lena Dunham recently revealed the secret behind their ability to cultivate and maintain strong female friendships.
It's called Taylor Swift.
In a piece for Dazed and Confused magazine in which Dunham interviewed Lorde, the two got to talking about the power of female friendship — specifically, how Swift makes friendship a priority worth working on. Said Dunham:
"And speaking of camp mother, I feel that Taylor has really taken control and said, 'I'm going to get us all together in the same place, I'm gonna make it very clear that friendship is powerful and women are magic and if anybody thinks this is a witches' coven they might be right.' She's just made it her job in a very cool way."
It's hard to make time. But we know friendships are at their most awesome and enriching when we prioritize them.
Making friendship a priority: Taylor's strong commitment to friendship makes her something of an anti-flake hero, in a time where technology has made it harder than ever to maintain IRL time with besties.
"Technology makes it so much easier to flake out," Andrea Bonior, clinical psychologist and author of The Friendship Fix, previously told Mic. "Since many times plans are made through technology, it somehow doesn't feel as wrong to just undo them via technology as well. It doesn't seem as concrete in the first place as, say, a paper birthday invitation."
The key to avoiding this all-too-common trap? Keeping friendship at the top of your priority list.
That's not easy to do in a society that implicitly ranks friendship at least second, if not third or fourth, in the tacit relationship rankings. Romantic relationships are pursued, honored and admired, as are family connections. Friendships, especially for adults, often get overlooked for their value. Noted Ann Friedman in the Cut, "Need to leave work early because your good friend is going through a tough time and needs some one-on-one with you? Try getting that explanation past your boss." 
But they do have value — emotional, mental and even health-wise. 
Thankfully, making it a priority can be as easy as a text. Or easier than that, if your friend group is lucky enough to have a "camp mother" like Tay. Then you can just let her do all the work while you keep on being "the worst."
h/t Just Jared