President Obama Just Challenged Americans to Reject Gun Culture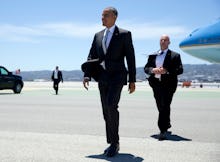 The shooting deaths of nine black men and women at a church in Charleston, South Carolina, Wednesday night were not inevitable, but a consequence of lax gun laws and congressional leaders lacking the bravery to strengthen them, President Barack Obama said during a pointed speech in San Francisco on Friday.
"At some point, as a country we have to reckon with what happens," Obama said. "It is not good enough simply to show sympathy."
Speaking at the annual U.S. Conference of Mayors, Obama doubled down on comments he made at a White House press conference early Thursday, arguing that stricter gun control laws are a necessary and useful means of preventing future attacks. The president also reacted to critics who claimed his earlier comments had been improperly "politicizing the problem" in the early aftermath of the massacre.
"I was simply making the point that we have to move public opinion," Obama said of his remarks Thursday. "We have to feel a sense of urgency. Ultimately Congress will follow the people. We have to stop being confused about this."
Obama also rejected the suggestion that he had given up his own fight on behalf of gun control reform, which was notably defeated after an initial surge of support following the killing of 27 people in Newtown, Connecticut, on Dec. 14, 2012.
"I am not resigned," the president said. "I have faith that we will eventually do the right thing."
Gun violence "costs this country dearly," Obama said. "More than 11,000 Americans were killed in 2013 alone. Eleven thousand. If Congress had passed some common sense legislation after Newtown, after a group of children had been gunned down in their own classroom, reforms that 90% of the American people supported... we might still have more Americans with us. We might have stopped one shooter. Some families might still be home."
Earlier Friday, former Texas Gov. Rick Perry said the president was using the racist murders in Charleston as an excuse to "take the guns out of the hands of everyone in this country."
"This is the M.O. of this administration. Any time there is an accident like this, the president is clear, he doesn't like for Americans to have guns and so he uses every opportunity, this being another one, to basically go parrot that message," Perry told Newsmax Media. 
Hours later in San Francisco, Obama reiterated what he said in Washington, D.C., a little more than a day before:
"You don't see this kind of murder, on this scale, with this kind of frequency in other advanced countries on earth," Obama said. "What's different is that not every country is awash with easily accessible guns. I refuse to act as if this is the new normal."
You can view President Obama's full remarks below: