Taylor Swift Just Tweeted the Perfect Feminist Response to a Sexist Article About Her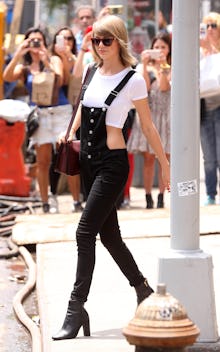 Singer-songwriter and outspoken feminist Taylor Swift had the perfect response to a celebrity gossip site that tried to mislead followers into thinking she was pregnant.
After the U.K.'s OK! Magazine repeatedly teased a Swift-related "pregnancy announcement" on Twitter that turned out to be photos of the musician posing with fans who were giving their own announcement, Swift apparently decided she'd had enough. The result was this sick (and totally pro-equality) burn:
Dang.
Swift's criticism of OK! Magazine's "choice of words in labeling me" refers to two times in the article that the writers chose to introduce her as a man's property: first as "Harry Styles' ex-girlfriend" and then as "Calvin Harris' rumored girlfriend." In fact, the article doesn't introduce Swift as a musician at all until after dissecting rumors about her love life.
Swift, who came out as a feminist in 2014, has since criticized the media's portrayal of her through a feminist lens. The Guardian's Jessica Valenti praised her song "Blank Space" as the work of a "woman who has full creative control over her image and isn't afraid to use it to mock your efforts to stereotype her":
Swift also took to the airwaves to criticize entertainment industry reporters and critics that essentialize her through a male lens.
"You're going to have people who are going to say, 'Oh, you know, like, she just writes songs about her ex-boyfriends,'" she told the Australian radio show Jules, Merrick & Sophie in October, according to Time. "And I think frankly that's a very sexist angle to take. No one says that about Ed Sheeran. No one says that about Bruno Mars. They're all writing songs about their exes, their current girlfriends, their love life, and no one raises the red flag there."
Kudos, though, to Swift for raising the red flag for herself.
h/t BuzzFeed