The LAPD Shot a Man Who Was Waving a Towel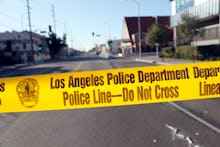 Los Angeles Police Department officers shot and severely injured a man Friday after he flagged them down and waved his arm in a towel.
Local television station KTLA reported the unknown man had "flagged down police officers on Los Feliz Boulevard near Tica Drive around 6:30 p.m. Friday, Los Angeles Police Department Lt. John Jenal said." The man reportedly then extended his towel-wrapped arm in the direction of the officers, and ended up being shot after the officers demanded he drop a gun that never ended up being found on or near him.
Video taken by bystanders appears to show two officers handcuffing the man while he is lying on the ground and bleeding from the head. All of the people seen in the footage appear to be white.
According to the Los Angeles Times, it was the second LAPD officer-involved shooting of the day to involve a person who was partially wrapped in a towel — although the other man shot reportedly brandished a gun after a two-hour police chase that started in southern Los Angeles. Police have not yet determined why the man in Friday's incident waved them over.
In March, LAPD officers were videotaped shooting and killing a homeless man in the downtown neighborhood known as Skid Row. A similar incident in May caused activists to demand an aggressive investigation.
"Any time an unarmed person is shot by a Los Angeles police officer, it takes extraordinary circumstances to justify that," police Chief Charlie Beck said in May. "I have not seen those extraordinary circumstances."