12 Emotional Images Show the First Post-Shooting Sunday Service at Charleston Church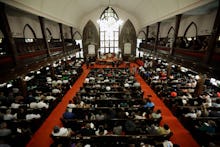 Emanuel African Methodist Episcopal Church may be grieving. But in no way has it been defeated.
On Sunday, the Charleston, South Carolina, church conducted its first service since a self-declared white supremacist shot and killed nine members of its congregation, including the church's reverend and state Sen. Clementa Pinckney, on Wednesday.
Photos of the service show the church was packed to capacity; the Associated Press reported parishioners were queued in long lines to get in. Police officers were on the scene throughout the service, which was led by the Unity Church of Charleston's the Rev. Ed Kosak. At the end of the service, Kosak told the congregation to "Turn to your neighbor and say, 'It's going to be all right!'"