Taylor Swift Just Took a Bold Stand Against iTunes, and Indie Artists Should Pay Attention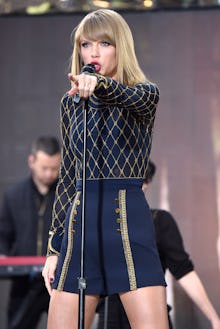 One of biggest names in music is taking on one of the biggest names in technology.
Taylor Swift recently announced on Tumblr that her 2014 album 1989 will not be available via Apple's new streaming service, Apple Music, because the software giant has basically demanded that record labels foot the bill for its launch.
"I'm sure you are aware that Apple Music will be offering a free three-month trial to anyone who signs up for the service," wrote Swift. "I'm not sure you know that Apple Music will not be paying writers, producers or artists for those three months. I find it to be shocking, disappointing and completely unlike this historically progressive and generous company."
"This is not about me. Thankfully I am on my fifth album and can support myself, my band, crew and entire management team by playing live shows," Swift continued. "This is about the new artist or band that has just released their first single and will not be paid for its success. ... Three months is a long time to go unpaid, and it is unfair to ask anyone to work for nothing."
According to Mashable, the rest of Swift's back catalog will still be available via the service.
If you take Swift's argument at face value, Apple's policy does seem totally unreasonable — no one should have to give away their work for free. Her complaints have been mirrored by indie label Beggars Group, a parent company that owns four labels that manage bands like Radiohead, Queens of the Stone Age and Vampire Weekend.
The Verge's Dieter Bohn, however, writes the situation is more complicated than the singer is letting on, since Apple is planning on paying slightly above-market rates in the long term that will more than compensate for the three months of no profit.
Either way, this dispute threatens to mar the launch of Apple Music, which is just days away and counting. The service might be forced to launch without some of the most popular artists in the country, which is simply not good news for Apple. 
Hey, things could be worse. It's not like they're Tidal.
Monday, June 22, 2015, 3:30 p.m.: Swift has since earned a response from none other than Eddy Cue, head of Apple Music, who tweeted on Sunday night that the company will now be compensating artists during the three-month trial period.
Well, there you have it. Swift's coup was completely successful.