13 Tweets That Prove We Should Just Let Taylor Swift Solve All the World's Problems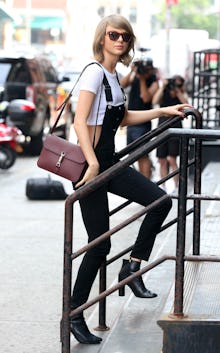 Well that was fast.
Less than a day after Taylor Swift took to Tumblr to criticize Apple for a plan to not pay artists royalties during a three-month free trial period of the new Apple Music, the tech giant has thrown in the towel, announcing a sudden reversal of course.
Apple's change in direction seemed to come as a direct response to Swift's Tumblr post saying she would pull her 2014 album 1989 from the store's streaming service. "This is not about me," Swift wrote. "This is about the new artist or band that has just released their first single and will not be paid for its success. ... Three months is a long time to go unpaid, and it is unfair to ask anyone to work for nothing."
"We hear you," wrote Apple senior vice president Eddy Cue, addressing Swift directly on Twitter, adding the company would "pay artist for streaming, even during customer's free trial period."
In an interview with Re/code, Cue said Swift and other artist's complaints had played a direct role in the decision. "I did reach out to Taylor today, and talked to her, and let her know that we heard her concerns, and wanted her to know that we were making changes," he said.  
The megastar can now add labor leader to her resume after many cheered the victory online. A number of comments on Twitter wondered what other world problems could be solved by such — Swift activism.
Apple Music is set to launch on June 30. If all goes to plan, users will receive a free three-month trial period before being required to pay $9.99 a month for a single-user membership. Artists, thanks to Swift, will be paid the whole time.