Pope Francis Had His Harshest Words Yet for the Gun Manufacturing Industry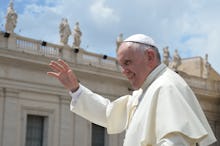 On Sunday, Pope Francis spoke in front of thousands of people in Turin, Italy, and took the opportunity to condemn weapons manufacturers to a cheering crowd. While he made no direct mention of Wednesday's racially motivated hate crime in Charleston, South Carolina, which left nine black people dead, the timing of his remarks is perhaps more than coincidental. 
"It makes me think of ... people, managers, businessmen who call themselves Christian and they manufacture weapons. That leads to a bit a distrust, doesn't it?" he said, according to Reuters. 
The pope reiterated that producers of weapons are not to be trusted. "Duplicity is the currency of today ... they say one thing and do another," the pontiff declared. 
Francis used the tragedy of the First and Second World Wars to offer concrete examples of the devastation arms manufacturing and profiteering can cause, specifically pointing to all those complicit in the Holocaust. "The great powers had the pictures of the railway lines that brought the trains to the concentration camps like Auschwitz to kill Jews, Christians, homosexuals, everybody. Why didn't they bomb [the railway lines]?"
Casting aspersions on weapons manufacturers and dealers is not a new stance for the pope, who has lambasted such groups in past. Those who make and profit off weapons "fabricate death, they are merchants of death and make death into a trade," he said in June 2014. However, his speech in Turin marks a new level of condemnation of weapons manufacturers by actually suggesting they're not Christian. 
The topic of gun control has resurfaced since the Charleston massacre. The lack of gun laws in America has received censure from John Oliver and President Barack Obama in the days since. While the pope was not specifically speaking about the U.S., his words come at a time when many are calling for a serious look at major gun control reform.