Charleston Confederate Statue Vandalized With "Black Lives Matter" in Red Spray-Paint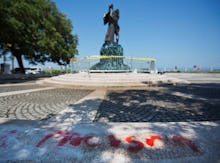 A new coat of paint has been added to a Charleston, South Carolina, landmark.
Sometime after the racially motivated massacre in the city that left nine dead at a historically black church, an as-of-yet-unknown person spray-painted a statue memorializing Confederate soldiers during the Civil War in a Charleston park with "Black Lives Matter" in red, capital letters.
"This is the problem. #Racist," was also painted on the other side of the statue, leaving little doubt as to their motives.
Police spokesman Charles Francis said he didn't know when the statue was vandalized, but the city would clean it in the near future. Until then, city workers have covered the message with a tarp, the Huffington Post reported.  
The local chapter of the United Daughters of the Confederacy erected the statue in the city's bucolic White Point Garden park in 1932.
The vandalism comes as the city and nation continues to come to grips with the enormity of the tragedy that occurred at the storied Emanuel African Methodist Episcopal Church. After a nearly 15-hour manhunt, the gunman, Dylann Roof, was charged with nine counts of murder and one count of possession a weapon during the commission violent crime. 
During the same period, vigils in Charleston and across the country were held to memorialize the nine dead, which included the church pastor and South Carolina state senator, Clementa Pinckney.
The massacre also ignited a new debate in the South Carolina state capital over the appropriateness of flying a Confederate battle flag over the Statehouse in Columbia. Defenders called it an important part of Southern history, while opponents argued it is a divisive symbol of racial hatred. 
Though the flag has been the most iconic centerpiece of this debate, other landmarks commemorating the Confederacy and America's bloody history of racism and slavery are sure to garner some attention as well. Although one may be concerned spray-painting could be a stepping stone to more aggressive or dangerous vandalism, one thing is clear: Something needs to change.