The Side of Taylor Swift's Apple Slam That No One's Talking About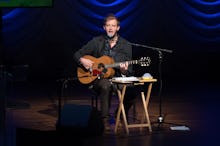 On Wednesday, independent record label Beggars Group announced that they would not put their music on Apple's new streaming service. Apple Music, which launches on June 30, promised its users an enticing three-month trial period, but Apple declined to mention that none of the labels would be paid during that period. When Apple presented labels with a contract — just three weeks before the service was set to launch — several independents, including Beggars Group, realized that they simply couldn't survive under it.
The struggle: "We struggle to see why rights owners and artists should bear this aspect of Apple's customer acquisition costs," writes the label, which represents musicians like FKA Twigs, Shamir and Radiohead. "At the moment, we do not have an agreement with Apple Music that would allow us to participate in the new service." 
For indie labels like Beggars Group, giving away music for three months is a threat to their livelihood. Artists who release new albums within that three-month window would see no profits when a user streamed their album on Apple Music. And Beggars Group has launched several major careers to date, including Adele, the White Stripes and the Strokes. Apple's proposed three-month drought would have meant the next big thing would languish. 
"If you are running a small label on tight margins, you literally can't afford to do this free trial business," Andy Heath, the chairman of UK Music, told the Telegraph. "It will literally put people out of business."
Collective outrage: Beggars Group wasn't alone in their outrage. Other small artists also spoke up about how Apple's suggested model wasn't sustainable for anyone not signed to a major label. Bon Iver frontman Justin Vernon wrote on Twitter, "The company that made me believe in companies, and not joking, people, is no more." The band Brian Jonestown Massacre claimed that Apple threatened to pull their music from iTunes if they didn't sign the streaming contract; Apple denied it.
The CEO of the Association of Independent Musicians also spoke out against the policy. In a letter to AIM members, Alison Wenham wrote, "This is a major problem for any label that relies on new releases rather than deep catalogue as the potential for this free trial to cannibalize not only download sales, which remain a very important revenue stream, but also streaming income from other services, is enormous."
A bittersweet victory: On Sunday night, more than a week since indie labels came forward saying they couldn't come to an agreement with Apple over their streaming contracts, Apple made a 180. Because of a Tumblr post from Taylor Swift. Apple responded on Twitter: "#AppleMusic will pay artist for streaming, even during customer's free trial period." 
Well, that was easy.
Reversing their decision is good business for Apple, but it's certainly not a win for the little guy. It's just another win for major artists like Swift. Apple said they reversed their decision in part because of Swift and in part because of indie labels, but if they really cared about the indie labels, they would have reversed the decision before now.
Apple changed their policy, but it shouldn't have taken so long. They wouldn't budge when indie labels pulled out of the streaming service, but when Swift posted to Tumblr, Apple tweeted that they'd changed their minds — without so much as a conversation with Swift about her letter beforehand.