Google Is Doing Something About Revenge Porn That It Should Have Done Years Ago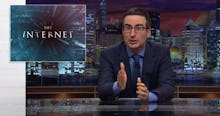 On Sunday's Last Week Tonight, host John Oliver took a swing against the phenomenon of revenge porn, the term for nude photos posted online without the subject's consent. For anyone who's sent a lover a suggestive selfie, the idea alone is enough to trigger dread. For victims of revenge porn, however, the terror is real.
There are countless stories about lives affected by revenge porn. Take Julia Rebecca, a Brazilian teenager who hanged herself when a sex tape was posted online, or Amanda Todd, the Canadian 15-year-old whose heartbreaking story of cyberstalking and blackmail culminated in her 2012 suicide. Not to mention Tyler Clementi, the 18-year-old Rutgers student who took his own life after his roommate took illicit videos without his permission and threatened to expose them to the world.
Because we don't treat the Internet with the same care and seriousness as we treat the real world, argues Oliver, we don't treat Internet harassment and stalking as if it were real life. We should. After all, the Internet now permeates all of our relationships and transactions.
Google is finally stepping up to protect revenge porn victims. The company announced on its public policy blog Friday that it would be removing revenge porn listings from search results:
Our philosophy has always been that Search should reflect the whole web. But revenge porn images are intensely personal and emotionally damaging, and serve only to degrade the victims — predominantly women. So going forward, we'll honor requests from people to remove nude or sexually explicit images shared without their consent from Google Search results."
In the next couple of weeks, Google will set up an online form where anyone can petition to wipe revenge porn from Google searches. Systems like this are already in place to protect people's addresses and credit card information, said Google.
It's still just a temporary solution. Google's fix doesn't solve the problem of revenge porn's legality. States such as New Jersey, Texas, Florida and Virginia are playing whack-a-mole with attempts at stamping out revenge porn when it becomes a problem. John Oliver, for his part, threw his support behind a long-stalled bill called the Intimate Privacy Protection Act of 2015, which would criminalize the posting of revenge porn on a national level.
Until it's illegal to spread nude photos of someone online without their consent, all we can do is continue to drive the photos deeper into darkness.
"We know this won't solve the problem of revenge porn," Google wrote. "We aren't able, of course, to remove these images from the websites themselves — but we hope that honoring people's requests to remove such imagery from our search results can help."
Watch Oliver's full segment below.