Elena Kagan Dropped Some Amazing Spider-Man References Into a Supreme Court Decision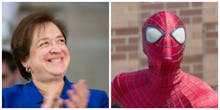 It was decision day at the Supreme Court on Monday, and although the justices did not rule on either of the blockbuster cases before the court (same-sex marriage and Obamacare subsidies), Justice Elena Kagan managed to slip some law nerd Easter eggs into an opinion regarding Spider-Man, of all things.
The question at the heart of Kimble v. Marvel Entertainment was "whether the Supreme Court would overrule a very old decision that prohibits a patentee from collecting royalties after the patent expires, even if the patentee and licensee expressly agreed that the royalties would last longer," according to SCOTUSblog. "The court was encouraged to overrule that precedent because it doesn't make much economic sense. The court said it would adhere to its old rule anyway."
Thrilling stuff! And probably important to someone. But the best parts of the decision were the Spider-Man references that Kagan dropped into her opinion, while writing for the majority:
Then she discussed the superpowers of patents:
Further down, Kagan included what is likely the first Spider-Man quote in a Supreme Court order:
Unfortunately, the justices have yet to weigh in with their opinion on Tobey Maguire's acting chops. But there's always next term.