Watch a Shirtless Tom Cruise in the Newest 'Mission: Impossible — Rogue Nation' Trailer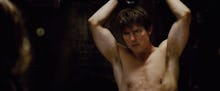 Agent Ethan Hunt is back for a fifth time. Unfortunately, he's a bit tied up at the moment.
A new trailer for this summer's Mission: Impossible — Rogue Nation shows off an Impossible Missions Force backed up against the wall. Hunt (Tom Cruise) is undercover and undiscoverable. William Brandt (Jeremy Renner) is getting questions from an irate CIA director (Alec Baldwin). Benji Dunn (Simon Pegg) is searching for Hunt. They're all facing an enemy designed specifically to destroy them.
Luckily, they've got a new ally in the form of Ilsa Faust (Rebecca Ferguson), a femme fatale. "How do you know we can trust her?" Brandt asks Hunt.
"Desperate times," Hunt replies. "Desperate measures."
A new Mission: Impossible movie shouldn't be this exciting — better franchises have come and gone since the first installment debuted almost 20 years ago. Yet the 2011 fourquel, Mission: Impossible — Ghost Protocol, was such an unexpected delight for fans old and new. Introducing Renner and Pegg (and the sadly now-absent Paula Patton) gave the film a team-effort feel better fitting the age of Avengers and its ilk.
Unfortunately, Ghost Protocol's director Brad Bird isn't present this time. The Incredibles helmer managed to make the real-world action feel delightfully absurd — bringing the anything-goes world of animation to reality. Luckily, replacement Christopher McQuarrie seems to have learned some of Bird's tricks.
Mission: Impossible — Ghost Protocol hits theaters July 31. Watch the full trailer below.