This Instagram Account Is Responding to Explicit Grindr Messages in the Best Way Possible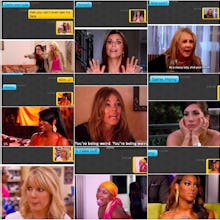 Ever wish for the perfect way to respond to overly aggressive declarations of horniness on hookup apps? (Besides, of course, just saying "Bye, Felipe.")
You're in luck, because there's now an Instagram account for that. Welcome to the Real Housewives of Grindr.
For those who've been living under a big, straight rock during the past few years, Grindr is a hookup app which uses GPS locations to provide a literal grid of nearby men looking for sex (or dates) with other men.
While many are quick to refer to it as the "gay Tinder," the comparison actually understates it, seeing as the Grindr experience can be, um, vulgar as fuck. With no opt-in swiping system, anyone can slide into your messages with an unsolicited dick pic or declaration of horniness without permission. And those declarations aren't uncommon.
As Leah Reich wrote in the New York Times in 2014, "Tinder is to Grindr as tofu dogs are to kielbasa."
Lightening the mood: So when Sean, a 27-year-old single gay man, logged on to Grindr for the first time in 2014, he was caught off guard by the app's intensity.
"I wasn't really expecting many messages," he told Mic. "But I was bombarded almost instantly. I was really taken aback by how forward, persistent and horny the guys were."
He stayed on it, though, as he had just gotten out of a long-term relationship and was looking to meet new guys, which the app can certainly be great for. But as any Grindr user can attest, the constant onslaught of X-rated messages eventually produces head-shaking fatigue likely to suck (pun intended) the fun out of the experience altogether. For every successful hookup to come from the app, there's likely a trail of 49 unwanted blowjob requests behind it.
When Grindr fatigue eventually set in for Sean, he wanted to find a way to make the app fun again — so he started responding to the most aggressive messages in the best way possible: Real Housewives memes.
"The first one I sent was a guy telling me to come over and kick him in the balls," he said. "For some reason Ramona from Real Housewives of New York came into my head, so I just searched that and sent it."
And a gem of an Instagram account was born.
While Housewives memes are an undoubtedly snark-heavy form of communication, Sean told Mic that the majority of Grindr users respond positively.
"Most just laugh and continue to try to get in my pants," he joked. "Though I've gotten a few Stephanie Tanner 'how rude' memes back."
He added, "I was at a gay bar once, and this guy just came up to me and said, 'I think you sent me a picture of NeNe Leakes on Grindr one time.' I died."
Tamping down the intensity: The positive reception among those who've been Housewife'd suggests that anything to inject a little levity into an environment some might describe as a sex-crazed abyss of testosterone is appreciated. 
Grindr has been lambasted by gay man after gay man for "ruining romance" for those who use it for relationships (you know, searching for the occasional "needle in a gaystack"). With 5 million users worldwide, Grindr is likely not going anywhere, nor is the hornball army that it seems to come pre-installed with. It is, after all, designed with hookups in mind — or at least with photos. 
"Grindr is a very, very visual experience," founder Joel Simkhai told the New York Times. "I'm not really a big believer in words."
Judging from the quality and subtlety of the messages, that much is clear. What the tendency towards such explicitness says about the gay community is up for endless debate, but "at the end of the day," it's nice to be able to take the whole thing a little less seriously.
Nothing says "this is absurd and what are we even doing here?" quite like a strategically placed Teresa Giudice meme.