Kanye West Just Spit An Epic Freestyle Addressing Racism and Charleston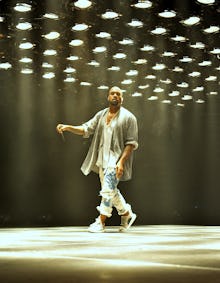 During his headlining set for Hot 107.9's Birthday Bash at Atlanta's Philips Arena Saturday, Kanye West took a moment between hits to bring the energy down and drop an important freestyle on racism. Over a sparse piano melody, West half-sung, half-rapped a verse. He argued that racism is a self-perpetuating cycle. 
Preach. "See that's the magic of racism, it works on itself," Kanye spit. "We hate each other, screw each other, kill each other / When we can't kill nobody else."
He addressed on economic inequality, and the inextricable connection it has with race relations. "See that's the magic of lack of resources, it works on itself / 500 niggas getting pop-pop-pop-pop-pop-pop-popped, and North Carolina didn't help."
Because he was going off the cuff, he may have intended to nod to South Carolina, where the shooting at the Emanuel African Methodist Episcopal Church occurred. Of course, he could have been referring to the North Carolina fraternity suspended over its racist pledge book back in March, or several other incidents that have occurred in the state, because racism is everywhere.
Kanye book-ended the verse with a plea to fans to not let the media skew his words. "Don't let them make you believe that I'm crazy, I'm not crazy," he sang. There is little about this moment for the media to criticize. It showed one of culture's most vital artists addressing one of the culture's most important topics. 
Kanye West is not crazy. He might just be a genius.
h/t Rolling Stone