Gov. Nikki Haley Just Called on South Carolina to Take Down the Confederate Flag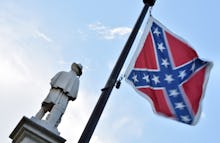 After five days of hesitation and confusion following the Charleston church massacre, South Carolina Gov. Nikki Haley, a Republican, called on Monday for the Confederate battle flag to be removed from the state capitol grounds in Columbia.
"It's time to move the flag," Haley said, to applause from the crowd gathered for her press conference. "That flag, though an integral part of our past, does not represent the future of our great state."
Earlier in her remarks, Haley acknowledged the flag was, to many, "a deeply offensive symbol of a brutally offensive past." Haley also assured its defenders that she only opposed the symbol's presence in this particular public space. 
"To those who wish to show their respect for the flag in their private property, no one will stand in your way," she said. "But the statehouse is different."
The background: Calls to bring down the flag have grown as the public learned more about the fatal shooting of nine black men and women by a 21-year-old white suspect during a Wednesday night Bible study session inside Emanuel African Methodist Episcopal Church. The alleged gunman, Dylann Roof, published a racist manifesto online before the killings.
Segregationist Democratic Gov. Fritz Hollings first raised the flag over the Capitol in 1962. It wasn't until 2000 that business leaders and civil rights activists came together, lobbying for weeks and organizing a march of 46,000 protesters in order to have it moved. State legislators reached a compromise that affixed a smaller version of the flag over a memorial to Confederate war dead, but mandated that two-thirds of the legislature must agree to any future changes in how — or if — it is displayed.
South Carolina Republican Sens. Tim Scott, who is black, and Lindsey Graham, a GOP presidential candidate, were by Haley's side as she called for the flag's removal. Scott had been mostly quiet on the question until Monday, first saying he would wait until after the slain churchgoers were buried to give his opinion publicly.
Graham has been less circumspect, but no more clear. On Friday, he told CNN, "We're not going to give [the alleged killer] an excuse about a book he might have read or a movie he watched or a song he listened to or a symbol out anywhere. It's him, not the flag."
Graham issued a statement after Monday's press conference, explicitly calling for the flag's removal. 
"Today, I am urging that the Confederate Battle Flag be removed from statehouse grounds to an appropriate location," he said. "After the tragic, hate-filled shooting in Charleston, it is only appropriate that we deal once and for all with the issue of the flag."
This wave of top state Republicans will join a number of prominent state legislators from their own party, notably including state Rep. Norman Brannon, a friend of state Sen. Rev. Clementa Pinckney, who was among those killed at AME Emanuel.
Brannon explained his decision on Sunday.
"What lit the fire under this was the tragic death of my friend and his eight parishioners," Brannon told the New York Times. "It took my buddy's death to get me to do this. I should feel ashamed of myself."