This Chinese Woman Traveled 1,500 Miles and Spent $1,100 to Save 100 Dogs From Being Eaten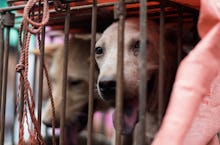 A 65-year-old retired Chinese school teacher named Yang Xiaoyun has made international headlines after traveling 1,572 miles and spending $1,100 to purchase more than 100 dogs in the southern Chinese city of Yulin. The city plays host to an annual dog meat festival, and the animals would almost certainly have faced death had Yang not stepped in, the Huffington Post reported. 
Yang's activism began two decades ago, in 1995, when she started taking in stray animals. Today she keeps more than 1,500 dogs and 200 cats at her "Common Home For All," a farm she owns on the outskirts of the northeastern city of Tianjin. Her continued efforts have forced her to go into debt and move ten times. Her family life, too, has suffered because of her commitment, the India Times reported.
"I don't have a home now, where the dogs go my home is," she said in an interview with the Times.
Locals in Yulin began the dog festival tradition in the 1990s as a way to celebrate the the arrival of the summer solstice. Dogs are traditionally consumed with lychee and supposedly bring good luck and prosperity, according to Chinese state media. As many as 10,000 dogs are expected to be slaughtered for the feast this year. 
Unsurprisingly, the event has its share of critics. A Change.org petition asking the Yulin government to cancel the festival this year has received more than 1.4 million signatures. British comedian and animal rights activist Ricky Gervais also made headlines Sunday demanding the feast be canceled.
It's not the first time Yulin, in China's Guangxi Zhuang Autonomous Region, has raised headlines due to its controversial celebration. An effort to avoid protests by holding the festival a week early in 2014 backfired after news of the plan leaked online. The local Yulin government, which had once supported the feast, promptly distanced itself after an international outcry.  
As ordinary Chinese people have embraced pet ownership in recent years, traditional views of eating the animal have emerged as a sharply divisive social issue. "Probably it's just their tradition," Chinese university student William Wu told Mic. "But that also proved their ignorance." Wu's reaction was typical of wealthy Beijing residents and spoke to a vibrant animal rights activism that has taken root in the country in recent years. "I think it's just pure [brutality]," said Wu.
Despite the protests, the 2015 Yulin festival went on as scheduled, and barring drastic action by the local government, the celebration is likely to to continue for many years to come.