Janet Jackson Just Dropped Her First Single in Nearly 6 Years, And It's Hella Smooth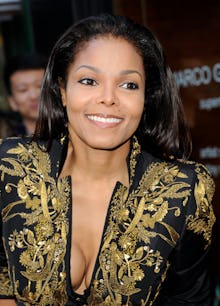 It's been been nearly six years since we had any new Janet Jackson in our lives. Her last single, "Make Me," came out in 2009 as part of her greatest hits album, Number Ones, though it's now clear the star is not done making hits. On Monday, Jackson released a brand new single, "No Sleeep," via Twitter, and it's every bit as smooth as any of her classics. 
Janet Jackson is back, and more importantly she's back with the smooth, R&B jams on which she built her name.
Her vocals are a low whisper, perfectly sensual. They lock right into the song's sultry R&B groove: "You better get ready my king/ 'Cause I'm gonna be the queen of insomnia."
On Twitter, Jackson dedicated the song to her "Love," presumably Qatari billionaire Wissam Al Mana, whom she married in 2012.
The song should quell all the rumors that swirled around Jackson following her following her marriage — speculation was that she had converted to Islam and quit the entertainment industry for good. Hopefully the rest of her upcoming album, likely to be titled Conversations In A Cafe, will also dispense with the obnoxious EDM beats that made up her last album. Let's take it back to the essence.
The time is ripe to resurrect that classic R&B sound. So many artists have already started heading that way. Thankfully Ms. Jackson is now here to lead that conversation. Stay tuned for more as the R&B Queen heads out on her first world tour in four years later this summer.