Wal-Mart to Remove Confederate Flag Products From Stores Nationwide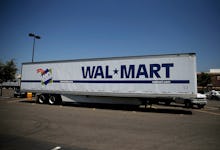 Wal-Mart, America's largest retailer, announced Monday it would remove all merchandise bearing images of the Confederate flag, the company told CNN. Presently, some stores carry belt buckles and T-shirts carrying the flag. 
Wal-Mart operates more than 4,000 stores across the United States, and the move will make acquiring Confederate-themed memorabilia considerably more difficult. 
The decision was made in the aftermath of the Charleston, South Carolina, massacre Wednesday night that left nine people dead and was motivated by shooter Dylann Roof's hatred toward African-Americans and his alleged desire to ignite a "race war" between whites and blacks.
"We never want to offend anyone with the products that we offer. We have taken steps to remove all items promoting the confederate flag from our assortment — whether in our stores or on our web site," Wal-Mart spokesman Brian Nick told CNN. "We have a process in place to help lead us to the right decisions when it comes to the merchandise we sell. Still, at times, items make their way into our assortment improperly — this is one of those instances." 
In addition to Wal-Mart, Sears Holdings, the parent company of mega-retailers Sears and Kmart, also announced they would be discontinuing any merchandize associated with the flag.
While pro and anti-flag forces have squared off for years over whether the flag was a cherished symbol of national heritage or divisive racial violence, the tone of the debate has shifted markedly in favor of those calling for its removal. On Monday, South Carolina's Republican Gov. Nikki Haley, who defended the flag's position at the state capital as recently as 2014, announced she would support its removal from the Capitol grounds and urged lawmakers to remove it. 
South Carolina law presently requires a two-third vote in both chambers of the state legislature, however, as, Congressman and Assistant Democratic House Leader James Clyburn pointed out, that law could simply be repealed by a majority vote.
The tone of the debate may also have shifted as business and large South Carolina employers like Wal-Mart decided to take a stand. In addition to America's largest retailer, the tire giant Michelin, which employs more than 9,000 in South Carolina, voiced its belief that the flag should go in the run-up to Haley's announcement, CNN reported. 
"Michelin applauds Gov. Haley's call to remove the Confederate flag from the Statehouse grounds and agrees that the flag must be immediately removed," Pete Selleck, head of Michelin North America, told the Charleston Post and Courier. Both Boeing and the University of South Carolina echoed similar support as well.
The flag and South Carolina's slave-holding history remain widespread throughout the state. Calhoun Street, where Emanuel African Methodist Episcopal, where the shooting took place, is located, is named for former slavery defender and Vice President John C. Calhoun. Not far from there, a monument memorializing Southern war heroes stands in a public park. 
At the end of the day, the flag is just a piece of cloth — the real fight is the struggle against the hatred and enmity which makes it so destructive.