7 Incredible Emo Bands Fronted by Female Musicians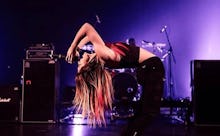 Emo always has been a boys' club. 
Even with the so-called "emo revival" that hit the scene in the last three years, women are woefully underrepresented in the genre. NPR chalks it up to that seemingly never-ending struggle within emo to defend its bona fides.
"It's an authenticity game in which women are automatically assumed inauthentic and aspirational in their listening," music writer Brad Nelson told NPR. "Totally hideous behavior. I also think even playing an authenticity game in emo is maybe the losingest losing battle ever. It's already majorly maligned music, and creating hierarchies within it seems super pointless."
Among the hundreds of emo bands, unfortunately only a handful are fronted by women. But those female-fronted bands are some of the best in the genre. From revivalists to pioneers, here are seven emo bands led by badass females. 
Tonight Alive
Jenna McDougall, the lead singer of Tonight Alive, has the swagger of a No Doubt-era Gwen Stefani. But the Australian natives in the band are most often compared to the female-fronted pop-punk band Paramore. You might recognize some of Tonight Alive from their songs' appearances in shows like The Hills and Keeping Up With the Kardashians, or the latest Spider-Man movie.
"The good thing about being around [a band of] guys is that they really ground you, and they kind of bring everything back into perspective," McDougall told Gurl in 2014. "It's easy for me to be carried away with insecurity, and it's great having guy friends that just break it down and bring you back down to earth. I guess their priorities are different, so it has affected me in a very positive way."
Kittyhawk
This Chicago-area emo (dare we say it — revival) band features Kate Grube rocking out on vocals and keyboard. "I think it's sort of an interesting time for [emo] right now," Grube told Best New Bands in November 2014, shortly after the release of the album Hello, Again. Kittyhawk defies stereotypes of emo's morose nature. According to Consequence of Sound, the band's music imparts "a joyous sense of rock 'n' roll swagger."
"It's very exciting to be in this group of people that all love that type of music. ... This idea of not being afraid to write about emotional things ... being a person who cares about doing things for themselves and not following some stupid corporate trend, and doing things with a lot of honesty."
Against the Current
Chrissy Costanza fronts Against the Current, a trio signed to Fueled by Ramen. Before joining that trailblazing emo label, Against the Current were a YouTube sensation; according to Fuse, their single "Paralyzed" racked up 7 million views in less than two weeks. The Poughkeepsie, New York, natives took their name from the final line in the Great Gatsby: "So we beat on, boats against the current, borne back ceaselessly into the past." 
"We've interpreted it as the meaning of us [when we] went against the current, against the grain and did what felt natural to us, regardless of what we thought we were supposed to be doing," Costanza told Fuse. "We threw all of that out the window. We existed how we wanted to." In this case, it means creating a "pop-punk" sound that transcends genres. 
Pity Sex
This shoegaze emo band from Ann Arbor, Michigan, features Brennan Greaves and Britty Drake on vocals. The male-female overlap makes the band's lo-fi harmonies that much more interesting and nuanced. But the band has come across some real scumbags on tour. Last summer, a fan rushed the stage and tried to kiss Drake during the band's set at the Music Hall of Williamsburg in New York, but the venue didn't kick the guy out. He got back onstage and tried to kiss the woman in the following act too. Drake tweeted later, "Sucks that a culture of entitlement has ingrained that it's cool to kiss non-consenting strangers so well that he didn't know what he did wrong."
Rainer Maria
This Madison, Wisconsin-based band featured Caithlin De Marrais on lead vocals. The band emerged as an early emo fixture in 1995, and continued as a group until 2006, when they took an extended hiatus. They reunited on New Year's Eve 2014 for their first show since 2006, according to Brooklyn Vegan, and have since performed a few shows.
"We've played together a lot recently and it's been incredible — like a grin fest," De Marrais told the Philadelphia City Paper in April. "We can't seem to stop having fun so as far as I'm concerned that's the best stage to be on. I sincerely thank my band mates every time we get together because now I have perspective about the fleeting nature of things. Every show is so special because of that gratitude."
Pohgoh
Pohgoh was a mid-'90s emo band featuring Susie Richardson (now Ulrey) on vocals. Hailing from Tampa, Florida, Pohgoh split in 1998, but had such a loyal fanbase that the group released an anthology in 2004. And they recently reunited on Christmas in 2014 to celebrate the 20th anniversary of their record label, New Granada. Alternative Press called Pohgoh's song "Friend X" "one of the best songs ever written by any band ever."
We Are the In Crowd
Another upstate New York band, We Are the In Crowd is fronted by Taylor Jardine. The band spent last summer on the Warped Tour, and they've accompanied big-name bands like New Found Glory as tour openers. Jardine said she encounters people who are off-put by her band's music and image, but she considers it a "healthy challenge."
Jardine told Property of Zack, "I go on stage and I'm like, 'OK. That guy's got his arms crossed. He's definitely way too tough to be watching some little girl jump around on stage; way too cool for this.' And I see him immediately ... I kind of look at him and I'm like, 'Smile, man! Have a good time!' ... We're actually here for the same reason: to listen to music and be part of something."