Remember These 16 YouTubers — They're the Celebrity Superstars of Tomorrow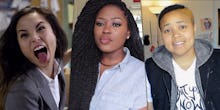 Impact
By
Sophie Kleeman and Jack Smith IV
Forget Beyoncé and Taylor Swift — their fame is old news. The next generation of celebrities are springing forth from YouTube, and they're bringing their massive fanbases and endorsement deals with them. 
YouTube stars have managed to turn the seemingly monotonous and banal — video diaries of their daily lives, makeup tutorials, comedy routines — into viewership gold. Personalities like Jenna Marbles, PewDiePie and Smosh are taking over, complete with big-budget movies coming out this summer. 
Those guys have already arrived. Their names are on the tip of every teen's tongue. But what about the up-and-comers? The stars who are just beginning to blow up? We put together a guide to the next generation of celebrity, the superstars of tomorrow. Remember their names, because you're going to be seeing a lot more of them.
1. Hartbeat
Hart is a brash and boldly funny comedian who vlogs about being black, gay and excellent. She's been at it for years, and has slowly amassed a following that shows for her everywhere she goes — even when she's spending her off-hours streaming on Twitch and YouTube, going one-on-one with commenters and fans, or wearing nothing but a watermelon. Yep, you read that right.
Watch her if you like: Outspoken comedy paired with serious topics
2. Anna Akana
Anna Akana is a comedian, filmmaker and vlogger who's running a whole host of hustles. Not only does she produce short films, run a clothing line and host live events, but Akana also does the diligence of recording her feelings about her own fame, including a breakdown of how she makes her living as a YouTube personality and a video turning the tables on those who've called her a sellout.
Watch her if you like: When Comedy Central's select skits show up incidentally on in your Facebook Timeline
3. and 4. A Gay in the Life
A Gay in the Life is an attempt by two guys named Will and R.J. to show that being in a gay relationship isn't the hyper-sexualized drama the media wants it to be. They update their channel daily, pulling in an enormous number of viewers for what is essentially a day-in-the-life comedy with very long episodes.
Watch them if you like: Dispelling Hollywood stereotypes
5. Meghan McCarthy
Meghan McCarthy may have the most memorable voice on YouTube. She sounds like Tinkerbell on acid, and listening to it is eerily addictive — you can't stop, because you want to see if she keeps it up. (As her website notes, "I'm older than I sound.") She's also big on Vine, and she's appeared in numerous commercials, including ads for Coca Cola and Pringles. Her videos are of the comedic, light-hearted variety — reading mean comments or things that make her happy, or palling around with HGTV's Property Brothers.
Watch her if you like: Laughing as your friends inhale helium
6. Skylynn Floyd
Part of the illustrious Grier clan, Skylynn and her brothers Nash, Will and Hayes have become something akin to YouTube's First Family. Skylynn is the youngest of the bunch by far, but she's already climbing her way up to the level of her brothers: The 6-year-old has almost 200,000 YouTube subscribers and more than 9 million views. Her videos touch on about what you'd expect a small child's would: a "throwback Thursday" post of her trying her first lollipop, having fun with chickens and holiday greetings. (Her breakout video also featured her making some bizarrely uncomfortable comments about women, but let's hope she grows out of that.)
Watch her if you like: Any of the other Griers, because they make frequent appearances in her vlogs
7. Thomas Sanders
You've probably seen Sanders from the many compilations of his Vine pranks, but like any enterprising multiplatform Internet Brand, Sanders is also building out his YouTube presence. Though he's far more Vine-famous, we'll see if he can translate those brief comedic flourishes into a longer format.
Watch him if you like: Watching never-ending strings of Vine compilations on YouTube
8. Akilah Hughes
Hughes brings together social commentary, Q&A sessions and humorous takes on current events, like her "2015 Flu Review," in a channel called Smoothiefreak. She's also an active writer and tweeter — she blogs for Fusion, Femsplain, HelloGiggles and Refinery29 — and a comedian to boot. But she's been on YouTube since its early days in 2006.
Watch her if you like: Sharp, funny observations about hot topics, or tipsy book reviews
9. Matthias
"I make videos to make you laugh," Matthias says in his introductory trailer. With over 500,000 subscribers and 61 million views and nearly $900 per month in Patreon funding alone, the blond, bespectacled performer is doing his artistic family proud. His videos run the gamut from sketches, comedy and music videos to "epic" parodies, and he also co-hosts another channel, called Matt & Amanda, with his wife — you guessed it — Amanda.
Watch him if you like: Your friendly neighborhood hipster doing standup at the coffee shop
10. Strawburry17
Strawburry17 is like taking Epic Meal Time and trading out the biceps, bacon and booze for emojis, gummy candy and video games. She's got a small team behind her working on the Strawburry17 channel and the Lifeburry, her more personal video blog.
Watch her if you like: Attack of the Show, if G4 had ever really worked out
11. Casey Neistat
Casey Neistat is a vlogger and creative producer whose work has pulled in headline after headline — like when he purposefully rode his bicycle into cars and trucks in NYC's bike lanes, or spray-painted his Apple Watch gold, or took a hatchet to his least-favorite camera, or announced his wife was pregnant. Up next: an app.
Watch him if you like: Bam Margera, minus the violence, plus a little design brilliance
12. and 13. Allison Raskin and Gaby Dunn
Dunn and Raskin answer all your questions, covering everything from anal sex to life goals. These best friends are refreshingly frank: "How do you become happy? That's not a tangible goal," Dunn laments in one. "God, I'd love to be a basic bitch. They seem happy," Raskin says shortly after. They're like the girls from high school you wished you were friends with but were also slightly intimidated by — because they were always funnier than you.
Watch them if you like: Amy Poehler and Tina Fey
14. Brodie Smith
Smith's videos are bro catnip: crazy ultimate frisbee moves in various bro-friendly settings, like sand dunes and football fields, and compilation videos of crazy "trick shots" (and kissing hot girls for good measure). These viral videos helped catapult Smith from Internet dweller to real-life athlete, but his YouTube channel is still going strong. With over a million followers, he's on his way to the level of fellow athletic stuntmen Dude Perfect.
Watch him if you like: Asking your friends, "Have you seen this?"
15. Fun for Louis
Louis is a YouTube travel vlogger and dreadlocked globetrotter who shows off foreign countries and exotic destinations "not as a tourist, but a nomad, an explorer, a global citizen." Louis mixes FOMO-enhancing adventurism with Casey Neistat's jazzy, hand-held style. He's like a "not all who wander are lost" Instagram earth-porn meme come to life.
Watch him if you like: The Amazing Race, or the golden days of Survivor.
16. Peakmill
Peakmill is a frequent YouTuber whose videos focus on beauty, hair and fashion. She also runs a website for where customers can order wigs. Many of her videos are set to music and coach viewers on how she gets ready; they also include product descriptions for easy access. Her vibrant and dramatic eye makeup might throw some shrinking violets for a loop, but by the end of her videos she'll have you convinced that you too can pull off electric-blue eyeshadow.
Watch her if you like: Makeup tutorials that feature good tunes — and more interesting things than simple contouring