If SoundCloud Goes Under, Music Will Change for the Worse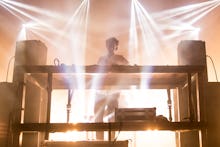 Before Lorde was a pop royal, she was a young New Zealand singer-songwriter with a handful of lyrics and a SoundCloud account. She posted her first EP, The Love Club, in November 2012. It included "Royals" as a free download. Four months later, it earned a major label release. The rest is Grammy and Billboard chart history.
Lorde may be SoundCloud's biggest success story, but she is not alone. So many of today's most buzzed-about artists got their start using SoundCloud's free and open distribution platform: Leon Bridges, the Texas dishwasher turned soul legend; producer Kaytranada who adds new production credits daily; Boots, the formerly homeless producer behind Beyoncé's self-titled album. Chance the Rapper believes SoundCloud to be "the only music platform that cares about the artist and the fan."
SoundCloud fulfills a vital role in today's musical landscape. It helps listeners discover the next generation of talent. Unfortunately, the platform is in jeopardy. It posted a $29 million loss in 2013. And its feeble attempts to monetize by adding radio-style ads and using algorithms to weed out copywrited content aren't doing enough to please its major label clients or its indie base. The platform has been announcing more restrictions, such as limits to the number of plays one can have on apps . Each has been met with a bigger and bigger outcry.  Some of SoundCloud's changes may be necessary evils, but at the end of the day, there's only one option: Soundcloud must be saved. 
A platform with a purpose. SoundCloud started in 2008 in Berlin. It was a small platform for up-and-coming music producers to share music and collaborate with others across the Web. As it became more popular, artists used it as a publishing platform. Up-and-coming artists were able post music without having to worry about royalties and licensing deals. The huge user base started to draw bigger name artists in the late oughts. Beyoncé joined in 2012 to share remixes of her "Best Thing I Never Had" single. She posted the first sample of her self-titled album with "Bow Down" in March 2013. 
"SoundCloud is where music culture happens on the Web. It's where it originates," cofounder Eric Wahlforss told Gizmodo in 2014. He was not wrong.
The money problem: In 2014, SoundCloud started to face trouble. Major labels started asking for more options to monetize their artists' work on the platform. SoundCloud  introduced ads in August 2014 and signed its first deal with a major label in November to host their artists' content in exchange for a stake in the company. Appealing to major label demands, the service also partnered with ZEFR, an algorithm that identifies copywritten content, flags it and takes it down. 
It has wrongly stripped massive amounts and dealt a heavy blow to remix culture and again called the legitimacy of sampling into question. This has largely the alienated smaller acts and DJs who helped build SoundCloud into the platform it is today. DJ Kaskade was one of the most vocal opponents about SoundCloud's takedowns.
"They got this incredible service up and running off all these people that have been trusting it, and then they yanked the rug out from under them," Kaskade told the New York Times, elaborating on his feelings about the service, which he's also outlined on Tumblr.
With every concession SoundCloud has made, it's moved further and further from its original mission — to nurture an interconnected creative community ranging from "from bedroom artists putting their first demos into the world to Diplo creating playlists of music that he enjoys," said Alexander Ljung, the platform's founder and CEO, according to NextShark in May 2014.
Now Diplo's playlist is as much at risk of getting stripped down as any bedroom artist. But the difference is scale. Diplo has a team that ushers his music through the proper channels to get it on Spotify. These are the artists who need SoundCloud's open platform most:
Source: Soundcloud
Source: Soundcloud
SoundCloud should stay true to its roots. Responding to every major label demand would be the wrong move for SoundCloud. SoundCloud's best features include its ability to highlight undiscovered names, and share remix and DJ sets that wouldn't fly on services like Spotify or Tidal. Obviously, SoundCloud has to make enough money to keep its servers running, but the most important aspect must be preserving the culture. Because no other streaming services has created its own culture the way SoundCloud has.
"EDM has evolved in a way that never would have been possible before the Internet. I definitely don't think that would have been possible without using services like SoundCloud," André Allen Anjos of the Remix Artist Collective, a SoundCloud mainstay, told Gizmodo. "It's definitely changed the landscape of how music is created and kind of opened the door for getting weird or finding people all over the world who share your love."
Though soon this open, collaborative environment may be no more, and it may be just another heavily monetized platform like Spotify or Tidal. 
Where are artists supposed to experiment with creative and musical boundaries? Maybe Kaskade's new portal.
Whatever happens in the next six months, SoundCloud has to keep focused on its mission to nurture the Internet avant garde. If it does, maybe it can solidify its niche and save the music.
"My partner Eric Wahlforss and I didn't start SoundCloud as a business just for its own sake. We had a fundamental, personal sense of purpose," Ljung said in an interview with Egon Zehnder. "But we are also finding how hard it is to focus on that purpose as the business grows and becomes more commercially successful. To be creative on this scale, we need to step back from time to time and ask ourselves: What were our core values?" 
Let's hope they remember before it's too late.