This Pirated TV Network With 500 Channels Just Declared War on Cable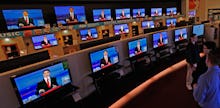 Many of us are desperate to get rid of cable, but when it finally comes time to cut the cord, we find an excuse not to: a football game, an HGTV marathon, breaking news on TV or just a favorite show we can't find on Netflix, Hulu or Amazon Prime. And then, before we know it, we're shelling out another monthly $130 to Time Warner Cable.
Monday morning, a streaming site called cCloud TV relaunched. Like the pirated-media-streaming app Popcorn Time but for live television, cCloud TV lets you stream up to 500 live channels from across the planet (with a few radio feeds mixed in).
It sounds too good to be true, right? It's real, and it could save you thousands every year. There's one problem, though: It's not at all legal. The service's pirated streams completely infringe on copyright law, and the cCloud team has been chased off its servers in the past.
Could you be arrested for using it? No, but both viewing and hosting illegal streams is copyright infringement. 
Companies like Time Warner and Verizon don't chase down streaming the same way they tackle illegal downloads of music and movies, but they most definitely could. From Business Insider:
When the user downloads even part of a file — called "pseudo-streaming" — it counts as a copy of copyrighted material, which is illegal. And when the user streams content as a "public performance" — namely, when it's shown to a substantial number of people outside the normal family circle and its close acquaintances — it also constitutes a copyright violation.
How it works: cCloud TV is an open source project. The developers, who use comics-inspired code names like Batman, Superman and Bane, find existing Internet protocol television links — TV services delivered through the Internet — and feed them into the cCloud hub.
Getting started is a little difficult. To set up cCloud TV on a Mac, you have to use Firefox, install VLC media player and add the right plugins. It's not much tougher than torrenting, but will take you an extra 10 minutes the first time you use it. Once you're in, you just click on the names of channels, and you're watching.
The growing alternatives to live television demonstrate that more and more millennials are desperate to abandon cable.
Another issue: CNN and HBO — two channels you'd want to watch in real time as news breaks and your friends live tweet Game of Thrones — aren't currently available, though the team behind cCloud is always scrambling to update and get lost feeds back online.
Alternatives to traditional TV are getting better and better. As streaming options improve and offer more original programming, millennials are growing disenchanted with cable and looking for ways to jump ship.
In the meantime, services like cCloud TV are going to be a tempting option. As we speak, developers are looking to "add over 1,000 channels to cCloud from all around the world."