Watch Amy Schumer Avoid Commitment in the Newest 'Trainwreck' Trailer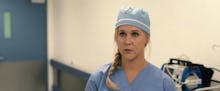 "Monogamy isn't realistic," Amy's father tells her when she's young. Trainwreck, Judd Apatow's new movie written by Internet treasure Amy Schumer, tracks what happens when a young person takes that philosophy to heart.
In the latest trailer for Trainwreck, Amy (Schumer, sharing a name with her character) expertly avoids any and all commitments with men. That all changes when her editor (Tilda Swinton) assigns her to write about a sweet, charming doctor (Bill Hader). Despite her best efforts, she's compelled by him enough to actually date.
It's little wonder the trailer calls Trainwreck "not your mother's romantic comedy." Seeing a woman as the commitment-phobe may not seem revolutionary, but it's quite rare, especially in this genre. Schumer and Apatow's collaboration already looks like the latest in a new wave of progressive, ambitious rom-coms.
Considering the strength of female-driven pictures at the box office recently — think Pitch Perfect 2 and Spy — Trainwreck is teed up to be a massive hit. It likely won't be the biggest blockbuster of the summer, since Jurassic World has that title locked down, but it will likely cement Schumer as a star of many venues.
We would never want Schumer to leave TV; her satire on Inside Amy Schumer is increasingly necessary to deflate the double standards and hypocrisies of Hollywood. But hopefully, Trainwreck will allow her to become a star in both worlds. After all, we need more Trainwrecks too.
Trainwreck hits theaters July 17. Watch the full trailer below.