This Contestant's Tweets About Sex Are the Only Thing from "Bachelorette" You Need To See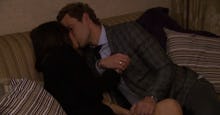 Few shows are as mired in sexism and retrograde gender norms as ABC's The Bachelorette — which Monday night's episode proved yet again.
When the show's star, Kaitlyn Bristowe, slept with male contestant Nick Viall on the episode, it didn't take long for viewers to start chiming in — and for the show to start teasing the shamey reactions from the other contestants that are bound to arrive when they find out.
But one bright spot was Nick himself, who took to Twitter as America watched the hookup unfold to make the important points worth hearing: 
So many Judge Judys: Nick's comments are arguably the clearest, most unequivocal argument for sexuality equality and anti-shaming anyone involved in the Bachelor/Bachelorette franchise has ever offered up. 
And they're necessary. Though the show's producers have clearly allowed Kaitlyn, as well as past contestants, to explore the physical side of their relationships, that freedom typically comes with judgment, or at least sneaky editing that dangles judgment in front of viewers. 
The preview for the episode did highlight Kaitlyn's assertion that the act of having sex wasn't wrong — but it also cued the dramatic music and cleverly spliced insults from her suitors that played up the shame angle. The attempt to play all angles highlights the show's ambivalent relationship to sex, as it simultaneously encourages its contestants then puts them up for judgment. (As Willa Paskin put it for Slate, the franchise has "weird sex issues.") 
Fending off the "Twitter slut police": But it doesn't have to, because it should be as simple as this: Sex is part of intimacy, and intimacy is part of dating — something The Bachelorette is all about. Most importantly, men and women should both be able to have sex without judgment. 
Of course, not all Bachelorette viewers felt that way watching the episode:
Kaitlyn has confidently shaken the haters off, telling People after the episode that a first-date hookup is "something I don't think I should be ashamed of," and "that would probably happen in the real world."
Meanwhile, Nick's tweets are an encouraging addition to the growing movement of male feminists outspokenly supporting gender equality, particularly when it comes to tearing down sexual double standards. Joseph Gordon-Levitt, Asiz Ansari and John Legend are a few notable names who are speaking up and coming out against double standards.
The fact that Nick is doing so from a show known for its relentless sexism and slut-shaming makes his remarks that much more necessary. Forget watching next week's episode — we can bet our final rose that whatever the show offers up as commentary won't be nearly as on-point as what's already on Twitter.