5 Things to Know About South Carolina Governor Nikki Haley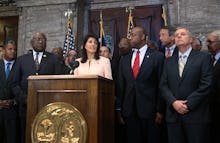 On Monday, South Carolina Gov. Nikki Haley gathered her state's top officials, including its two Republican U.S. senators, to call for the removal of the Confederate battle flag from the Capitol it has haunted for more than 50 years. 
The governor sensed the wave of public pressure — in the 24 hours after Haley's statement, Walmart, Sears and eBay announced they would be halting sales of Confederate flag merchandise — and rode it, at once comforting loyalists to the flag's "heritage" while demanding state legislators return to work and vote the "deeply offensive symbol" off this most public property.
"Today, we are here in a moment of unity in our state, without ill will, to say it is time to move the flag from the Capitol grounds," Haley said Monday afternoon. "One-hundred and fifty years after the end of the Civil War, the time has come."
The flag episode offers a unique insight into Haley's remarkable ascent to the height of executive power in South Carolina, a state with an inglorious history of dirty political fights steeped in racial animus. But less than a week after a white suspect gunned down nine black parishioners at the Emanuel African Methodist Episcopal Church in Charleston, it was Haley, a daughter of both Indian immigrants and the American South, who had emerged to issue the final word on what threatened to descend into a more damaging political crisis.
Here are five important things to know about South Carolina's Gov. Nikki Haley:
1. She is the first member of an ethnic minority to serve as governor of South Carolina, as well as the first woman.
Haley's parents are Indian immigrants, having moved to South Carolina in 1969, three years before the future governor was born. When she was first elected in 2010, Haley became the first woman and first candidate from an ethnic minority group to win the South Carolina governor's mansion. She is the first and only woman of color to hold the chief executive office in any state in the region.
2. She dismissed the idea of taking down the Confederate flag during her 2014 reelection bid.
While running for reelection less than nine months ago, Haley rejected her Democratic gubernatorial opponent's call for the Confederate flag to be "retired" on the grounds its presence had not hurt the state in the eyes of big business.
"What I can tell you is over the last three and a half years, I spent a lot of my days on the phones with CEOs and recruiting jobs to this state," Haley said in a debate. "I can honestly say I have not had one conversation with a single CEO about the Confederate flag." 
As for the broader public relations question about how the flag's presence affected outside perception of the state, Haley suggested the question was settled.
"We really kind of fixed all that when you elected the first Indian-American female governor, when we appointed the first African-American U.S. senator," she said. "That sent a huge message."
3. Haley was among the favorites for the 2016 VP nomination — now she's a frontrunner.
Haley's second and final term as governor will end in 2018, which means she could strive for a slightly early departure from the governor's mansion in 2016 without much risk of criticism. In any event, the possibility has been out there for some time. With Hillary Clinton as the likely Democratic presidential nominee, Republicans will be looking to mitigate their opponents' appeal to voters of color and women.
If there were any concerns about Haley's ability to shine in the spotlight and deftly navigate tricky political waters, then Monday's press conference should have put those to bed. 
Haley's action, whatever led her to it, landed in striking contrast to the obtuse chatter and, in some cases, outright silence, from GOP presidential candidates confronted with questions over what to do about the flag. Haley will trade on this moment for some time, perhaps even in a fall 2016 vice presidential debate.
4. She is super popular in South Carolina, where she was reelected by a historic margin.
Haley triumphed in her 2014 re-election bid by the largest margin of any South Carolina gubernatorial candidate in 24 years, defeating Democratic challenger Vincent Sheheen, a state senator, by a 56% to 41% margin.
In April, Haley showed a 79% approval rating among the state's likely Republican presidential primary voters in a poll conducted by Winthrop University. Sen. Lindsey Graham, who will be running in the Palmetto State primary next year, clocked in at just 58.2% A statewide survey from Public Policy Polling in February, taking into account voters form both parties, showed Haley with 51% approval, "the highest numbers we've found for her since she took office."
5.Haley has been the target of racist and sexist attacks by members of her own party.
Electoral politics can be an ugly business in South Carolina, home to infamous Republican hatchet man Lee Atwater. Haley knows that as much as any other state official. During her first run, in May 2010, a conservative blogger claimed that he and Haley had engaged in an extramarital affair years earlier. About a month later, another local politico said he and Haley had a "sexual encounter." The future governor denied all the accusations and promised to resign her office if the rumors were ever substantiated. They were not. 
In a particularly heinous episode in 2010, now-former state Sen. Jake Knotts (R), went on a long, racist rant against Haley, which he capped off by declaring, "We got a raghead in Washington, we don't need a raghead in the statehouse." The comments were made during an interview with the weekly Pub Politics webcast. Knotts went on to accuse Haley of being a traitor both to her own Sikh background (she is now a practicing Methodist) and, if elected, the country.
Knotts would deliver this half-hearted apology after leading conservatives and state Republican leaders rushed to condemn his comments.
Haley's campaign responded too, calling Knotts "an embarrassment to our state and to the Republican Party."
"South Carolina is so much better than this, and the people of our state will make that quite clear next Tuesday," campaign manager Jim Pearson told CNN at the time. Haley would win 49% of the vote in the GOP gubernatorial primary, sending the competition to a run-off, where she defeated former U.S. Rep. Gresham Barrett with 65% of the vote. 
That fall, Haley would be elected to her first term as governor of South Carolina.