Have You Joined the New Mile High Club?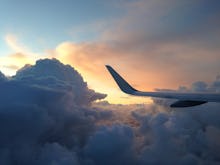 There's something about being on an airplane that makes people horny.
The traditional Mile High Club remains a staple on the bucket lists of many — in fact, a 2011 study by Trojan reported that 33% of men aspire to have sex on a plane.
So it's no surprise that the 2015 version of the Mile High Club involves smartphones and Wifi connections rather than cramping two bodies into a small space. Yes, we're talking about men who take in-flight dick pics. (Insert "snakes on a plane" joke here.)
And yes, it's a thing — even flight attendants and pilots are getting into the action.
An online peen-omenon: If you haven't personally received an airplane dick pic, that doesn't mean you never will see one. They are increasingly posted online, most notably on the 18+ Tumblr account (extremely NSFW) Fly That Cock, formerly known as the "Airplane Penis Club." 
The site has amassed a sizable collection of user-submitted photos. The men in the photos range from passengers young and old, as well as flight attendants and even pilots — pretty much anyone who flies and also has a dick. (Mic has reached out to Fly That Cock for comment.)
Also in on the action are porn stars like Duncan Black, who posts for his 30,000 Twitter followers NSFW photos marked "#PlaneJack" that show him posing naked for the camera after the mirror has been, um, effectively impregnated.
Planes and private(-ish) parts: It's hard to say how widely the "trend" has spread. But given the ubiquity of dick pics in private dating scenarios, it's not surprising that they continuously find their way onto the Internet and into weirdly specific communities like Fly That Cock.
So are the dudes who take part in this new Mile High Club a bunch of extreme exhibitionists? Probably not, said Cay Crow, a sex therapist. "Dick pics are not necessarily 'flasher' behavior," she told Mic. "And the fact that they are now happening in airplane bathrooms does not surprise me."
She added, "The Internet makes this exhibitionistic behavior easy and anonymous — the guy does not have to deal with the impact of showing his penis" when he posts to a Tumblr, rather than landing it in someone's inbox.
Regardless of where the impetus to post airplane dick pics comes from, one thing's certain about the new Mile High Club: Membership is much more attainable than it once was. Whereas it previously involved squeezing two adult bodies into an oppressively miniature space, now you only need a penis and a smartphone.