Vine Star Carter Reynold's Non-Apology Shows He Doesn't Understand Consent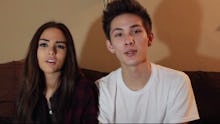 Vine star Carter Reynolds was caught with his pants down. Literally. 
After his iCloud was hacked, a brief video showing the now-19-year-old trying to coerce his now-16-year-old girlfriend Maggie Lindemann into fellatio while he filmed it was leaked online. "I don't know if I can ... I don't think I can," Lindemann says in the video. "This makes me so uncomfortable." 
In response, Reynolds allegedly said of the recording device, "pretend nothing's there" and repeatedly told her to "do it," while masturbating in front of her.
In the day following the news of the leak, Reynolds posted a note on Twitter defending his actions and offering a lukewarm apology.
Reynolds' Twitter "apology" shows a clear misunderstanding of consent. "Some of you guys have such a HUGE misunderstanding," he wrote in a screenshot he posted. "First of all, Maggie and I were dating at the time ... it's not like she was a random girl or a fan." 
The fact that Reynolds believes his conduct was justifiable because he was in a relationship with Lindemann reveals he does not understand what sexual consent means. In fact, around 8.8% of women in the U.S. are raped by a partner, and roughly 4 in 5 rapes are committed by people the survivors knew beforehand. 
The video leak comes on the heels of a public breakup between Lindemann and Reynolds. "I dumped him because he yells at me if I don't do what he wants, or if I do anything he doesn't like," Lindemann tweeted, as reported by the Independent.
Disturbingly, in 2014, Reynolds' half-brother Adam, now 43, was investigated for misconduct while he was a physical education teacher for two different middle schools in Florida. The teacher allegedly became friends with young, teenage girls online and facilitated his brother's meeting with a 14-year-old girl with whom Carter Reynolds ultimately had sex.
Reynolds' behavior is part of a disturbing trend in which young, male social media "celebrities," coerce young women and girls into engaging with them sexually. Two such examples are Mike Lombardo and Tom Milsom, two YouTube stars caught pressuring female fans to send naked pictures. Some of them were underage. 
While the video and his Twitter apology show a gross misunderstanding on Reynolds' part of what consent means, these patterns reveal he is not the only one. Furthermore, consent is so much more than the word "yes." If young men are unable to respect even the most rudimentary form of consent, they cannot be expected to understand its nuances.
"So long as society continues to peddle the idea that male pleasure is both easy and requisite while female pleasure is elusive and shameful, getting people to say 'yes' or 'no' is not enough," writes Mic's Julianne Ross. Understanding sexual consent should be a part of secondary education. Until society starts taking the issue seriously, we can't expect teenagers to.