Your New Spider-Man Is British Actor Tom Holland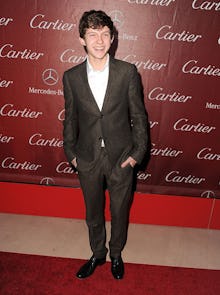 Tobey Maguire and Andrew Garfield, step aside. There's a new Spider-Man in town.
British actor Tom Holland has earned the role of Peter Parker in the upcoming 2017 Spider-Man film, Marvel announced Tuesday. 
"For Spidey himself, we saw many terrific young actors," Sony Pictures chairman Tom Rothman said in a statement with Marvel. "But Tom's screen tests were special."
The film, directed by Jon Watts, will be the first entry in the Spider-Man franchise to share a universe with Marvel's other movies thanks to a partnership between Marvel and Sony, the studio that owns the film rights to Spidey.
Holland is a 19-year-old whose previous credits include the 2012 Naomi Watts film The Impossible, as well as the recent televised adaptation of Wolf Hall. As Uproxx noted Monday, Holland's Instagram account is a treasure trove of the actor showing off his physical prowess — skills that will be useful on set.
Holland earned the role over a shortlist that included actors Nat Wolff (The Fault in Our Stars), Asa Butterfield (Hugo), Timothee Chalamet (Interstellar) and Liam James (The Way Way Back). As was widely noted, all of these actors are white; despite hopes that Marvel would cast an actor of color, the part was destined to go to a white guy.
This isn't just because of taste, though. As was revealed recently in some Sony documents, Peter Parker can only be a straight, white male on film. That makes Holland's announcement tinged with a bit of inevitability versus excitement.
Still, for Holland, this is the chance of a lifetime. Not only will he get his own movie, but he'll take part in the greater Marvel Cinematic Universe. His first appearance will be in the upcoming Captain America: Civil War alongside the titans of the franchise. 
It's a dream role — Holland just has to shoulder the extra burden of the dreams of many of what could have been.