Moviegoers Are Freaking Out Over These High-Tech New "4-D" Seats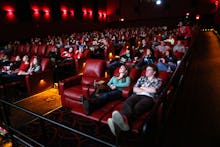 Coming soon to a cinema near you: scents, fog, wind, snow, even moving seats. No 3-D glasses necessary.
Movies are meant to be an immersive affair: the darkened room, the cushy seats, the surround sound. But they may soon be getting an upgrade, thanks to the emergence of what's known as 4-D technology. 
What's the fourth dimension? Physical and sensory aspects. 4-D tech adds seat-shaking action and weather simulation. It's intended to provide an experience moviegoers can't get at home. Feeling your chair vibrate in time with the thunderous steps of the dinosaurs in Jurassic World isn't a familiar sensation for most people, but the creators behind 4-D technology want to make it so. 
In general, the seats do a variety of cool tricks, including vibrating, heaving, rolling, tilting and rocking, but they do differ by maker. One company, D-Box, sticks to the basics — "its seats only sway, vibrate and jostle," according to the Associated Press — but others, like CJ 4DPlex, feature leg tickling, strobe lights and scents that match what's happening onscreen. 
They appear to be growing in popularity. D-Box told AP that the number of theaters worldwide with their seats increased 31% in a year; other companies reported similar numbers.
As one happy customer put it, "I loved it ... If you ever rode bumper cars as a kid, you'd like this."
Movie theater attendance is on the decline. It sank to its lowest point in 19 years in 2014. Theater owners are looking for ways to entice customers back to the pictures. L.A. Live, a theater outfitted with CJ 4DPlex's 4DX seats, said its revenues had tripled since installing them. Shelby Russell, the company's vice president of marketing, told Yahoo News, "The attention it's garnered for our cinema has been fantastic."
Could 4-D tech go mainstream? Theaters with 4-D technology aren't overly common in the United States — D-Box, one of the largest companies, installed seats in only 175 theaters in North America — and they're also more expensive for moviegoers.
"I loved it ... If you ever rode bumper cars as a kid, you'd like this."
As the Hollywood Reporter notes, only about 530 theaters worldwide have implemented the technology, and it still appears to be a very specialized area of interest. Still, Charlotte Jones, the principal cinema analyst at IHS Technology, a consulting firm, argued that the growth is there.
"We'd estimate that the market has approximately doubled over the past 18 months," she told the Hollywood Reporter.
Moviegoers, at least, seem to be into it: 
Brace yourselves — roller-coaster seats and fog machines may well be coming.
h/t Associated Press