How to Completely Supercharge Your iPhone for Under $15 and Discover What It's Capable Of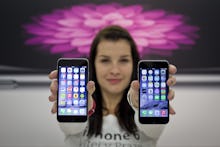 Chances are, no one taught you how to use your iPhone. You figured it out on your own, collected tips from friends, or instinctively explored your options and settings. But aside from minor productivity hacks, you're probably not using your phone — the machine that runs your social, professional and personal life — to the best of its awesome capabilities.
It's time to start putting your phone to serious use, because it's got the potential to make your life better. For 10 bucks or less, you can overhaul your photos, your exercise and even your span of attention. 
Pull out your iPhone and follow along as we take you through six brief upgrades and workarounds that'll change your mobile life — and will set you back less than $15 total. Best of all, you'll never get caught in an unexpected storm again.
Know when you're about to get rained on
The weather app on your phone is ... fine. You check it, it tells you the temperature and whether or not it's going to rain. It's got about the same functionality as watching the weather on the morning news. But it could be way, way better. For one, you shouldn't have to memorize when and where a sudden hailstorm is about to descend upon you in the middle of your commute.
Find a better app, like Dark Sky. It does the one thing a weather app should always do: It gives you real-time notifications about dark clouds rolling in. Dark Sky is a geolocation app that has not only robust weather forecasts, but also push notifications that give you a warning before it's about to rain, so you won't get caught without an umbrella ever again.
It's an extremely successful system. Dark Sky has been hovering toward the top of the paid app leaderboards for the past year, and recently saw a complete design overhaul.
Cost: $3.99
Eliminate all paper from your life
Phones have already allowed you to cut down on physical mail, scribbled notes and books. The final frontier is marked by all of those records you have to keep, like bills.
What you didn't realize: Your iPhone is actually an incredible HD scanner. Using an app like TurboScan or, better, Scanner Pro, you can put together multiple-page copies of your documents and either store them in the app or automatically file them to Dropbox, Evernote, Google Drive and more. After a few minutes of scanning, you could replace an entire drawer of files with ... nothing, because minimalism is excellence.
Cost: $2.99
Gamify your exercise for a better body
Fitness trackers are great, but the techno-utopian promise of being able to instantly become a master of your own body is pointless if you're not actually working out. 
Luckily, your phone can give you the motivation you need.
Following the premise that adding game-like elements makes a workout routine easier to keep up over time, there are video games that you play by running and working out. There's no FitBit or Apple Watch required: Crowd favorites like Zombies, Run! And if you're not into the zombie genre of fitness games, there are also alternatives like FitRPG and Fitocracy.
Cost: Zombies, Run! is free since the recent update
Build a multimedia editing suite
Unless you're a professional photographer, chances are you don't need a tower-sized Mac. A phone with a large-enough screen — for Apple, it's the iPhone 6 and 6 Plus — is the most capable multimedia editing tool you could ask for.
Paid apps like Afterlight ($0.99) and Enlight ($4.99) are a great start for artistic flourishes and captions, but you really want to build out a folder of apps to mess around with and combine filters, retouching and basic canvas altering. Consider VSCOcam, Google's Snapseed and PicLab.
Throw in some free apps for high-grade drawing, like Paper, and some free video editing apps, like Cameo or even iMovie, and you have a high-definition multimedia suite. Memorize the list of apps you collect, because people are going to start asking, "Oh my God, what did you use for that?"
Cost: Enlight is a powerful tool, and totally worth the $5.
Undo the damage its caused to your attention span
Because of their iron grip over our lives, phones are constantly nudging into our headspace and distracting us, which deprives us of peace and focus and, eventually, makes us dumber. So fight fire with fire.
Apple's iOS has a whole suite of white-noise machines and checklist apps, but take your rehabilitation a step further with apps that train your focus and memory retention, whipping your neurons back into shape. Brain games like Lumosity can have costly monthly memberships, but Elevate should do the trick with free, daily sessions. Round out the group with a speed-reading app like Velocity ($2.99) and a free mindful meditation app like Headspace, and you're well on your way to being less focus-starved.
Cost: $2.99
Look under the hood
If you're starting to get a sense of how powerful our little pocket computers are, you should consider trying to wield that power yourself by learning a bit of code.
The "learn to code" mantra isn't a silver bullet that will save your life, make you friends and launch your new career as a well-paid full stack developer. But with a little knowledge about how these powerful products work, you can make better decisions about your phone's software, find better apps and become the expert your family and friends desperately need.
Our suggestion: go with the Code School app — one of the most common and popular apps that help you learn to code for mobile from an actual mobile device. For desktop, try Code Academy.
Welcome to the shop class of the 21st century.
Cost: Free, unless you decide to subscribe to advanced classes and services. In that case, mileage may vary.