Live Tweeting Your Period Is the Funniest and Most Real Way to Normalize Menstruation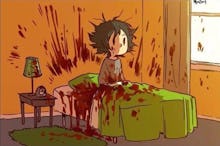 It seems that everything is quite cyclical, and the most obvious example of that are periods. BuzzFeed's Tracy Clayton tweeted the sentiment felt each month for women everywhere: 
And it turns out for many menstrual cycles — er, months — more and more women have lit up Twitter with their thoughts on what it feels like to bleed for days on end, with the hashtag #LiveTweetYourPeriod. 
Some feel like the blood is just everywhere at all times:
Many of us know food is basically medication: 
Some say their bodies are just cooperating with their fashion choices: 
Others are just trying to get through all the pain involved:
And then of course there's every emotion ever:
And then there's the practicality of it all:
Meanwhile, some say this whole thing might be a tad TMI:
Aside from being a hilarious show of solidarity between those who menstruate, the hashtag resonates with women who dread, anticipate and simply deal with their periods. But while about half of the people in the world will menstruate at some point in their lives, the stigma of the process still prevails. Artists and sisters Rupi and Prabh Kaur were censored from Instagram for sharing an image of Rupi's period bleeding through her underwear, while another artist/activist, known as Elonë, posed a question about why the general public is so disgusted by menstruation through well-placed pantyliners:
Meanwhile, the effort to normalize the ever-present existence of periods is picking up steam. The period care-package company HelloFlo is helping young girls understand and embrace their bodies with the Period Fairy, while THINX is literally tamping down on the price of tampons with super-absorbant (and quite cute) undies.
In either case, censorship and utter disgust of periods, especially on social media, is a sign of sexist double standards where women's bodies can be objectified for desire like a bikini selfie, but expressing the realness of womanhood is frowned upon. As Jenna Wortham wrote in her New York Times Magazine piece on the phenomenon, "Perhaps posting about taboo topics ­in public, right alongside the quotidian details of our lives, helps normalize, desexualize and destigmatize women's reproductive health — a topic shrouded in shame for far too long."
Still, some of us may have a more fun period if it just looked like this: 
h/t BuzzFeed