Who Needs a Boyfriend When You've Got Apps?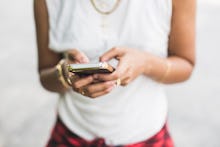 "You're celebrating your breakup?" my mentor asked over coffee after I announced with a smile that I was marking the one-year anniversary of my big, so-serious-we-talked-about-kids relationship burning to the ground. "Ending that relationship was hard, but ultimately it made me stronger," I answered, quoting world-renowned relationship expert Kelly Clarkson.
With hardship comes potential for growth and self-discovery. When I moved out of the cozy cocoon I had built with a person who I thought was my soulmate and into a small sublet in Harlem, I found myself living on my own for the first time. It felt strangely destabilizing yet empowering — not because I could now leave the dishes in the sink without anyone calling attention to my slobbishness, but rather because, in the dizzying bliss of romantic partnership, I had forgotten all of the cool things I could do by myself. Let me rephrase that: I discovered all of the amazing things technology and I could do together.
Being single made me realize I could be independent, but being single with a smartphone made me feel bionic.
To be clear, women don't need smartphones, nor do they need boyfriends (cue Beyoncé's "Grown Woman"). But advancements in technology have made it more enjoyable to live without a partner's helping hand. I performed a small, very unscientific survey with some of my closest straight-identified lady pals only to realize my experience had been theirs too — being both single and technologically connected ultimately made us more free.
Here's how we did it.
Single, yet never bored: "Who needs a man when you have a good book or an episode of Jane the Virgin?" Emma Gray, a senior editor at Huffington Post Women, told me over iMessage. Although a boyfriend can be entertaining, reading apps like Kindle and streaming apps like Hulu ensure endless hours of entertainment sans beau. "They let me escape into someone else's story whenever I get annoyed or bored with my own."
Grey isn't the only one. The Internet is full of movie watch lists for singles, with special ones for holidays like Valentine's Day. Netflix and HBO Go have both made it easy to share accounts. The latter company's CEO has even gone on record saying he doesn't care about users sharing passwords. So even if you're still using your ex's password (hi Chris!), as long as you're OK with him knowing you stayed in to watch Maid in Manhattan twice this week, you're good to go!
The best part about being single is you can couple your binge watching with deliciously irresponsible snacking without fear of judgment. Thankfully, there's an app for that too. Jaclyn Munson, a feminist writer and pre-law student, knows she can always turn to her smartphone when hunger strikes. "The main app that replaces the non-existent men in my life is Seamless. Nothing is more reliable than pizza coupled with Netflix," she wrote over email.
Incidentally, Dunkin' Donuts announced it is developing a mobile app delivery system, so whether it's for my main meal or dessert, there's really no reason to leave my house ever again. The best part? Now that I'm single, I don't even have to pretend I need two spoons for that giant slice of chocolate lava cake.
Single, happy and healthy: Being single isn't just fun — it can encourage healthier habits too. Being on my own meant I had way more time on my hands and I used those extra hours much more productively. I'm no anomaly: Research shows single people are more likely to spend time exercising and less time stressing out about problems like chores or money. My single friends felt similarly.
Amanda Gutterman, an entrepreneur in New York City, has found that being single empowered her to choose a healthier lifestyle by using apps like Headspace to meditate every morning. "Not being in a formal relationship gives me time to work on my startup and also stay in control of my personal schedule — from making sure I'm eating, sleeping and exercising, to taking care of my mind," she said. "I'm actually way calmer and more centered single."
All the single mommies: For women who have children, technology may be even more valuable. Rachel Sklar, cofounder of TheLi.st, says raising a baby on her own has been made possible in part thanks to her network of friends and family who offered their help. But organizing and filtering phone calls and text messages when you're dealing with a newborn is challenging. That's where Meal Train comes in. The app creates a meal calendar for those dealing with a surgery, illness or birth.
"Meal Train coordinated my visitors post-partum," Sklar said, by allowing those who wished to help schedule times to come by her apartment with food and keeping everyone in the loop about different chore-related needs. Sklar also uses car service apps like Uber and Gett to get around swiftly in the city.
"As a single mom, there are plenty of apps that make my life a lot easier ... Now I just need an app to take out the garbage," she joked.
Sometimes, you just need an extra hand: A few weeks ago, New York magazine's Jessica Roy wrote about trying to install her own air conditioner, only to have it fall to its death on her neighbor's patio. "I'm just trying to be an independent woman!" she lamented to readers. I whispered the same thing to myself as I walked up the eight floors to my apartment with a sofa chair last weekend.
Roy's struggle is the one of many single women (and frankly men too). I may have a Rosie the Riveter poster in my room and her mantra in my head, but I've also broken seven mirrors over the course of my life, and have never successfully assembled any Ikea furniture without it ending with me eating Cheetos in a bathtub out of frustration instead. Moving large objects on your own is hard, regardless of gender, and as Seinfeld showed us, asking someone to help you requires a certain level of intimacy.
Why burden your pals or take a chance when you have TaskRabbit, an app that allows users to bid on chores to be performed by other users? The chores vary from moving large furniture, to fetching laundry, to paint jobs, and range in cost depending on the task. I've used the app to help me me lug around large items from my storage unit to my apartment.
Christina Wallace, an entrepreneur in Brooklyn, New York, says it's domestic chores she can't handle. "I use a housekeeping service called Handy twice a month for cleaning, picking up the trash and cleaning dishes," she said over text. The app allows users to hire trusted professionals to handle a wide variety of tasks around the house. Similar apps are cropping up to offer personalized chore management, via which users can have their fridges stocked with their favorite snacks or request groceries via emojis. Alfred, a personalized butler app currently in beta testing, will do things like "make the bed, take out trash, put dishes in dishwasher" for $25 a week, Christian Bjelland, a representative from the company, told Mic.
No plus one? No problem. I saw more of New York in the first month of being single than I did in two years of being in a relationship; you don't need a date to discover new places around the city. A boyfriend may encourage you to put pants on and leave your house, but Kate Gardiner, an audience engagement consultant in Manhattan, is single and never misses out. One of the reasons for that is the New Yorker's Goings On app, which she says she uses for "calendaring her existence" and to find the coolest concerts and events happening in the city.
Wallace also uses GroupMe, a private chat service app, to field interest for different shows and find her plus one. "It allows me to buy two tickets to something cool and find a friend date at the last minute," she said over text.
Taking full advantage of your alone time: Technology is also revolutionizing female masturbation, one app at a time. Although women using vibrators is nothing new, rapid advances have made even the simplest form of fun alone time more sophisticated than ever. The SmartBod, more popularly known as the "smart vibrator," is essentially a fitbit for your fanny. It allows women to track orgasms and pelvic movements, helping enhance their solo sexual pleasure sessions. Although it's still in its beta testing phase, many women are lined up to get their hands on it. Natasha*, an entrepreneur who lives in New York City, is one of them. Over email, she wrote just how important self-pleasure is to her single life:
"I found long ago that I'm perfectly capable of opting in to the type of orgasms I want: on my time, at my leisure. If there's an app that can make those experiences even better, I'm in. Why would I not be into physical and digital sexual liberation?"
Even sans technology, being single is pretty great: If you're technologically challenged, don't lose hope. There are plenty of products that don't require you to download the latest IOS, like a massaging mattress (an actual purchase I nearly put myself in debt to make after spending an entire afternoon with a very persuasive Sleepy's salesman after my breakup), the coveted Boyfriend Pillow or whatever they finally invent that allows you to spoon yourself (c'mon, it can't be that hard). And if you find that special little treat-yo-self comfort gift, thanks to online deliveries, you won't even need to rely on anyone to help you lug it home.
What's more, as Wallace explained, the right pillow can in some ways be better than the real thing: "My large body pillow snuggles with me all night long without any threat of snoring or hogging the covers." Snuggling without all the sweating and snoring? Where do I sign up?
Technological and boyfriend-shaped pillow miracles aside, a common thread from the conversations with my single friends was that not being in a relationship makes them feel more capable, not less. Being single highlights all the power women have on their own. Although straight single women are often stereotyped as being incomplete for not being with a man, they live full, empowering and exciting lives. Smart vibrators, Netflix, Seamless and other savvy apps are the icing on a single cake that already tastes really darn good.
*Some names have been changed to allow subjects to speak freely on private matters.