Gmail Just Officially Launched Its Best Hidden Feature — And You Need It Now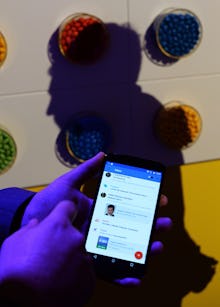 How many times have you sent a message only to spot a typo at the last minute, an email address you meant to BCC, a photo you meant to attach or a "love" that should really be an "all best"? 
Gmail officially rolled out a new feature Tuesday that's been hiding in the experimental Labs menu for six years. It's called Undo Send, and it's a tool you need to install immediately. Select it, and if you send an email that needs a quick fix, you can save yourself from the horror before it's too late.
If you're the type who loves tweaking little phrases but tends to fire off emails quickly — anyone with a desk job, basically — you will use Undo Send every day.
Let's install it! It's very easy. First, find your Settings menu on the top right corner.
Great. Now find Undo Send. You'll have to select the time window you need.
That's it. Don't forget to hit Save Changes at the bottom of the Settings menu.
Now when you send an email that's not quite ready, you can grab it back like a kid saving a balloon from floating off into the sky.
Feel free to send an email to thank us — when you're really ready to hit send.