16 Images Show What LGBT Pride Looks Like Around the World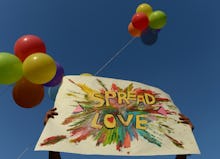 With Friday's landmark Supreme Court ruling, this LGBT Pride weekend might be a little more special across the U.S., but celebrations around the world throughout the month of June have already shown why LGBT Pride events resonate with so many. 
This outpouring of pride is hardly relegated to the United States. Despite facing similar or more obstacles, queer communities from all over the world have found a way to come together every June to celebrate their shared identity. These images prove that love — no matter its expression — is universal, and that all people deserve the right to proudly express it.
Mexico
Greece
France
Italy 
Romania
Japan
India