Watch Dash Cam Footage of Dylann Roof's Roadside Arrest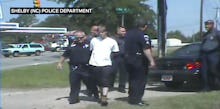 Dashboard camera video that the Shelby, North Carolina, police department released Tuesday reveals the exact moment Dylann Roof, the 21-year-old white man who shot and killed nine black people, was arrested. 
The footage shows officers cautiously approaching Roof's black sedan on the side of the road. Roof reportedly sat calmly in his car and told the officers, "I'm Dylann Roof," before handing over his ID. In the video, Roof then calmly gets out of his car and is arrested without a struggle. After a pat-down, officer shuffle him into the back seat of a squad car. The entire event lasts only a few minutes.
As a relatively non-event, the arrest stood in stark contrast to the more violent approach officers have taken towards black offenders in the past.
On Friday, Roof confessed to the killing of nine people at a historically black church in Charleston, South Carolina, Wednesday evening and was charged with nine counts of murder.  
Following the shooting, vigils were held across the country to memorialize victims. While Roof, a white supremacist, has hoped his actions would spark a race war, they ironically resulted in the exact opposite with whites and blacks in South Carolina coming together in mourning. On Monday, the state's Republican governor, Nikki Haley, reversed her previous position and said she would be in favor of removing the Confederate battle flag from the grounds of the South Carolina state capital. 
Roof is currently be held on a $1 million bail.