Here Are All the Places That Have Stopped Selling the Confederate Flag After Charleston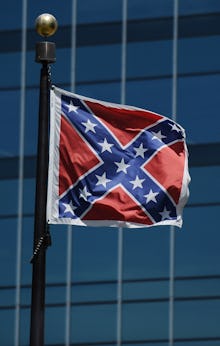 On Monday, in the aftermath of the racially motivated shooting that killed nine at a Charleston, South Carolina, church, America's largest retailer, Wal-Mart, announced it would no longer carry Confederate battle flag memorabilia or related products. 
"We never want to offend anyone with the products that we offer," Wal-Mart spokesman Brian Nick told CNN. "We have taken steps to remove all items promoting the Confederate flag from our assortment — whether in our stores or on our website."
The move set off a chain reaction over the next 24 hours as retailers rushed to disavow their previous associations with the flag. By late Tuesday afternoon, it became apparent that future Confederate enthusiasts were going to have a much tougher time acquiring the Stars and Bars. 
Below are all the places that will no longer be profiting off the Old South. 
1. Ebay
In a statement to CNN, Ebay spokeswoman Johnna Hoff, said the company would be banning the sale of the flag because it had "become a contemporary symbol of divisiveness and racism." 
The site was hosting the sale of a number of flags and other flag-bearing items Tuesday afternoon. Demand surged into the hundreds of orders as sellers rushed to unload their supply and buyers sought to snap up what will soon become a scarce commodity.  
2. Amazon
While Amazon may soon be delivering packages with drones, Confederate flags will not be among the items buzzing through the sky. Like Ebay, the company also announced it would discontinue the sale of flags and flag-related material. Like Ebay, the website saw a surge in orders just before the ban went into effect.
3. Sears
Sears never carried Confederate merchandise in their stores, but some could be purchased online from the company's website. That will change, said spokesman Chris Brathwaite: "We are in the process of scrubbing our marketplace to pull those items down," he told Yahoo News. 
4. Kmart
Sears merged with Kmart back in 2004, so when Sears made the call, Kmart followed too.
5. Etsy
The online seller Etsy also moved to follow in the footsteps of its bigger competitors. "Today, we are removing Confederate flag items from our marketplace," a spokesman for the company told Wired. "Etsy's policies prohibit items or listings that promote, support or glorify hatred, and these items fall squarely into that category."