One Photo Highlights the Absurdity of Nipple Bans on Facebook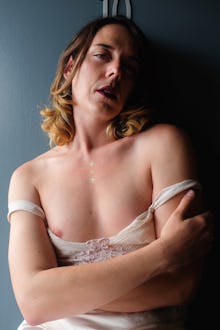 Meet Jason Greene.
When the 27-year-old performative artist made the above image Its Facebook profile picture on June 10, It barely gave thought to whether it might be considered inappropriate. (Greene prefers the gender pronoun "It" —  "with a capital 'I,' ...as an ode to Clara Bow being the 'It' of the 1920s silent [film] era.")
"It's a sensual image," Greene told Mic in an interview. "But I have nothing to hide."
Yet shortly after the photo went up, it was flagged for violating Facebook's community standards.
Greene still doesn't know who flagged it — a Facebook friend, presumably, since Its account was private at the time. But the reason Facebook gave was that it contained "nudity," citing Greene's exposed nipple peeking over the top of Its blouse.
This raises a number of questions. Facebook's nudity policy is relatively straightforward: Male nipples are allowed, while female nipples — unless they are depicted breastfeeding or displaying post-mastectomy scars — typically are not.
Meanwhile, the process for determining what's OK and what isn't falls to a team of trained reviewers who, a Facebook representative told Mic, do their best to "find the right balance between enabling people to express themselves and maintaining a safe and respectful experience for our global and culturally diverse community of many different ages."
So what happens when a person identifies as neither male or female? Or, on the other hand, what if they identify as both?
Greene's profile listed It as "Male" at the time, but as Greene will tell you, this designation is an exceedingly poor fit for many people.
Background: Resistance to the idea of a gender binary — that a person has to be either, A) male or B) female — is increasingly getting more attention. Transgender, gender non-binary, gender-nonconforming and gender-fluid are gaining progressively more mainstream acceptance as personal identifiers for people who don't necessarily conform to being male or female.
Most recently, Caitlyn Jenner made headlines when she appeared on the cover of Vogue magazine, building on a national conversation around transgender identity sparked by other prominent trans women, like Janet Mock and Laverne Cox. Miley Cyrus, in an interview with Out magazine, recently implied that she identifies most closely with being genderqueer.
But Greene doesn't have a word for how It identifies — at least not one that's completely satisfying.
"I'm not one or the other," Greene told Mic. "I don't like this notion that I need to think I'm either a gay man, or, if I feel like I'm a woman inside, I'm transgender. Because I don't."
Even Facebook has recognized some of the nuance to this discussion. In February 2014, the site adjusted its gender identification dropdown menu to include 58 options, ranging from agender and androgyne to transsexual woman and two-spirit. Facebook's system changed again earlier this year allowing users to type in their gender themselves.
Activists hailed these as victories at the time. But when Greene's flagged profile picture was sent back to It — finally approved as "appropriate" — it brought to light a striking inconsistency.
"Facebook seems to want points for being progressive in rolling out these options on how to identify," says Jenn Pozner, founding director of Women in Media and News. "But at the same time, their policies on gender are still extremely rigid."
Specifically: Greene's nipple was OK to put on Facebook because Greene, as far as Facebook was concerned, is a man.
And that men's nipples remain free to expose but women's are inherently sexualized, even criminalized, is increasingly being challenged. Mic's "Flip the Script" web series dedicated an entire episode to the subject in May, focusing on an activist campaign to #FreeTheNipple for women. Yet neither the law nor social media community standards have embraced its stance, even if — as in Facebook's case — they've taken steps to foster an environment where gender can conjure a multiplicity of identities, instead of just two.
As it stands now, Facebook's nudity policy remains ill-equipped to handle non-binary gender questions. Questions like: What if a person identifies as a woman, yet exhibits the physical attributes of a man? Or what if, as in Greene's case, it's visibly unclear how that person identifies as far as gender is concerned? Why is one type of nipple OK while another is not, especially when it's near-impossible to tell the difference on sight? And had Greene's profile identified It as a "Woman," but the profile picture was the same, would Facebook have still deemed it appropriate?
The takeaway: These are all dilemmas that Facebook — and society more generally — will have to reckon with sooner rather than later. Right now, the site handles these instances on a case-by-case basis. While the verdict on Greene's photo did conform to Its stated gender identity, it also raised questions about how much the nuances of less rigid gender identities really matter, in the end.
"It's decent on a surface level that Facebook has recognized there's not a gender binary," Pozner added, "but their community standards still show all kinds of binary thinking."
Perhaps Greene's story is an opportunity to re-evaluate this paradox.