Rihanna's Upcoming Album May Be Radically Different From Any Major Pop Release We've Heard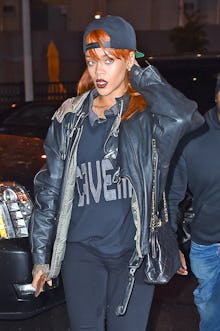 Rihanna has changed. In the nearly three years since her last album album release, and she's all but dropped off the grid she used to own. She's stopped giving music interviews; she's shared pictures of herself smoking weed and freed the nipple for the French magazine Lui. She's experimented with some head-turning fashion at recent events. And she's been taking her music in a similarly radical new direction.
Many longtime fans haven't exactly been pleased with all this experimentation. "Get your shit together, girl," Krysta Fitzpatrick wrote on Heckler Spray, discussing Rihanna's recent singles. "Where the fuck is the Music? Album title? Artwork? Appearances? Promo? The usual SLAY?" another asked on Twitter. And Bianca Gracie at Idolator claims Rihanna is "playing games with her dedicated Navy fanbase by not properly promoting the next era." This is the longest gap the singer has had between albums since she began her career in 2005. The Page Six rumor mill has suggested she's struggling to make a hit that can stick on the pop charts. But according to the artist herself, she's actually striving to do something much greater.
"I wanted songs that I could perform in 15 years; I wanted an album that I could perform in 15 years," the singer told MTV in March. "I find that when I get on stage now, I don't want to perform a lot of my songs. They don't feel like me. So I want to make songs that are timeless."
Rihanna is trying to go bigger than the standard pop hits we all expect from her. Based on what we know of the album so far, the singer may be set to bring some groundbreaking new sounds to mainstream pop.
True experimentation: The singles she's released so far this year have signaled there's some real experimentation going down in RiRi's studio, to an extent that's rare to see in pop artists at Rihanna's level. 
Rihanna specifically was the subject of choice for a huge 2011 NPR investigation into the astronomical costs of recording and promoting pop songs. The $1,078,000 price tag they uncovered can be used to explain why pop songs tend to be so endlessly derivative of one another: If singles sound like another song that's already a hit, labels and artists can better ensure their investments.
But Rihanna seems to be leaving all that safety behind for her eighth album, tentatively titled R8.
The album's first single, "Four Five Seconds," showed the singer alongside Paul McCartney and Kanye West, essentially creating a new genre — acoustic trap — as she and West traded verses about drinking and clubbing over McCartney's simple strumming. It hasn't charted as high as some of her previous singles, but that's often the price for songs that strike out into uncharted territory.
Her next, "Bitch Better Have My Money," similarly broke the mold for what a summer anthem can be. Its dark tone and slow tempo are radically different from the uptempo, happy-go-lucky songs that usually dominate the summer. But that newness was welcome on the dance/club charts. The single recently earned Rihanna her 23rd number one song on that chart, putting her up over Beyoncé on the ranking of artists with the most number ones.
Rihanna's most recent release, "American Oxygen," tapped into ongoing conversations about racial prejudice with a politically charged video. Its juxtaposition of patriotic imagery with scenes of poverty, exploitation and xenophobia made it clear that "two different Americas do indeed exist," as Mic previously wrote.
Pop songs rarely go that deep, and these are just the singles — the songs supposed to be the most accessible.
The right kind of risks. It seems Rihanna is reaching for new sounds and subject matter at every level. On April 21, she shared an interlude from the album, titled "James Joint." The song will put her love of marijuana right out in the open (as if it wasn't obvious enough). Hopefully, the nod will help further normalize the drug in the public eye and aid the ongoing initiatives to legalize the herb.
She also leaked a snippet of another song, titled "Higher," which has her drunkenly crooning over some oddly sawing strings. It's reminiscent of a love song version of Kendrick Lamar's highly experimental "u," in a way.
Hitting her roots and reaching for the new: Rihanna is also looking to tap into the sounds of her Caribbean heritage. According to the Fader, she's reached out to DJ Dre Skull, head of Mixpak Records, and has been in contact with Jamaican dancehall singer Popcaan. That should help differentiate her sound from the Katy Perrys and Taylor Swifts of the world.
It seems she's looking to grab some indie talent as well. Rihanna registered with ASCAP a song called "A Night" with a writing credit to Florence Welch of Florence and the Machine, who has been killing it this summer as one of the only female headlining acts on the festival circuit.
"I was so thrilled 'cause I'm such a huge fan," Welch told KROQ. "She sent me the song and I said of course. It's a sample. I don't want to tell everything about the song, but I think it's a sample ... I love it when stuff like that happens. When people reimagine your music, I love that when it has all these different forms."
Rihanna also may have a song coming with Canadian pop artist Keisza, whose album Sound of Woman hit number one on the Billboard dance/electronic charts last year. In July 2014, she told Digital Spy that Rihanna's choice surprised her. "The one that Rihanna has cut is one that I never in a million years expected her to pick out, so it was super interesting," she said. "It just shows that people want to evolve and try new things."
It really seems Rihanna is looking to innovate on her new album. And with Kanye West acting as her executive producer, it's inevitable they'll be getting up to some genre-pushing madness. The album is slated for a surprise release and may debut exclusively on Tidal. 
To Rihanna's Navy: Do not worry about this album. It will be worth wait.