12 Mind-Blowing Makeup Artists Whose Work Belongs In a Museum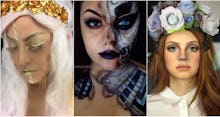 "It's face art, really."
That's how Maria Malone described her work to Mic. Malone is technically a makeup artist. But for a generation of young artists, makeup is the new frontier for self-expression and creativity, and makeup artists have exploded on Instagram and YouTube by sharing dazzling (and sometimes frightening) creations with their faces as the canvases.
Leveraging social media, makeup artists (commonly referred to as "MUA") like Mykie, Maria Malone and Alyssa Marie have developed online followings in the hundreds of thousands.
They've also succeeded in capturing the attention of big cosmetics brands like L'Oreal Paris, which sponsored the first international YouTube makeup competition, The Brush, earlier this year. L'Oreal makeup subdivision NYX hosts a similar competition called the FACE Awards (short for "Fine Artistry of Cosmetic Elites"), a version of the which is currently underway in the U.K. and Ireland. 
But for these self-taught MUAs, it's the artistry, not the fame or prizes, that inspires. Giovanna Garcia-Corrales, who goes by @vannaaaaxo on Instagram, told Mic via email that experimenting with makeup is no different than being a traditional visual artist.
"We have the quite the same process. We take time to think of a design/concept, how we will capture it, the placement of things," Garcia-Corrales said.
"You kind of need to have some ability and skills of fine artistry," Malone, 41, said. She developed her current specialty — multilayered designs that transform her subjects into animals or recognizable celebrities, like Frank Sinatra — from years focused on portrait painting. She was inspired by her mother, who specialized in painting in oil on canvas.
Vanessa Knudson, 30, who can be found on Instagram as @evangeline.lamorte, pointed out to Mic that the line between MUA and traditional painters is increasingly blurry, with the added inspiration of one important source: Hollywood.
Both Malone and Knudson, who studied visual arts and trained in special effects, cited film special effects as a source of childhood inspiration. For Knudson, watching Robert England transform into the likes of Freddie Krueger captured her imagination. Malone said that her love of special effects led her to begin experimenting with what she calls "face illusion."
"I loved special effects, but I was just having a go, [thinking] what could I do without special effects to create that illusion of the broken nose?" Malone said. Years later, she's creating works of art she shares regularly on social media and is one of the top 20 contestants in the FACE Awards.
She's in good company. Social media has dramatically changed the landscape for today's MUAs, Malone said, by connecting creative types and creating networks for artists to learn from one another.
"People have picked up on the concept of painting on skin. And, there's no limits... Whatever your imagination can come up with, you can do it," Malone said.