These Teens Just Dreamed Up Condoms That Change Color To Detect STIs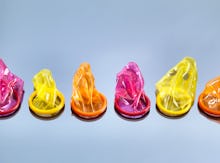 Imagine a condom with the ability to detect STIs simply by changing color.
That's exactly what three teen students in the U.K. have dreamed up for the 2015 TeenTech Awards. The S.T.EYE, as 13- and 14-year-old inventors Musaz Nawaz, Daanyaal Ali and Chirag Shah have named it, is a genius idea for a product that could revolutionize casual sex and STI prevention. The idea was born from a perfect storm involving a Reddit thread, a healthy dose of creativity and, most notably, effective sex education.
"The boys actually thought of it when they were researching to find an innovative idea that would make life simpler and better," Deelwara Ahmed, the students' math teacher at Isaac Newton Academy in Ilford, U.K., told Mic. "They came across an article on Reddit which said 'top 10 things that should be invented: color-changing condom.'"
She added, "The STIs were then a spin on their behalf, as they have been learning about STIs in their PSHE (Personal, Social, and Health Education) lessons and felt this would be a great way to help detect STIs and also make people more aware of them."
And the concept for the S.T.EYE was born.
The product, which has built-in detection that turns colors based on the presence of certain bacteria strains,was conceived as both way to detect a partner's STIs as well as one's own. "We wanted to make something that makes detecting harmful STIs safer than ever before, so that people can take immediate action in the privacy of their own homes without the invasive procedures at the doctors,"  14-year-old Daanyaal Ali told the Independent.
Still in the works: It's important to note that "concept" is the operative word here, as Ahmed explained to Mic. At the moment, the S.T.EYE is still very much a research project. 
"The students did a lot of the background science reading basing around HIV testing," she said, noting that "mini chemical reactions" were carried out in the process. She added, "Obviously if taken further, their scientific research would have to be tested and trialed."
The condoms would be a dream product in the world of STI prevention if they came to fruition. That said, no product should fully replace that uncomfortable yet crucial pre-sex STI talk, as honest communication between partners is pretty paramount when it comes to safety and pleasure in sex — something we bet the teens are learning in those sex ed lessons. 
But a chameleon STI-callout rubber certainly wouldn't hurt matters.
h/t the Independent