These "Power of Makeup" Instagram Photos Are Making an Important Point About Beauty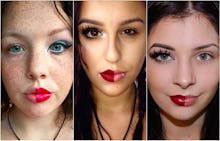 The multibillion-dollar makeup industry keeps growing, as millions of women rush to stores to cover up their blemishes, coat their eyelashes with mascara and cake on the layers of foundation and blush. Instead of women proudly embracing their beauty, their never-ending insecurities feed the industry.
At least, that's the line of logic often used to judge women who embrace makeup. But Nikkie, the beauty vlogger behind NikkieTutorials, called out this conventional wisdom in a viral video last month called "The Power of Makeup" to respond to the mounting sense of shaming of makeup lovers.
"Nowadays, when you say you love makeup, you either do it because you want to look good for boys, you do it because you're insecure or you do it because you don't love yourself," she states in the video. "I feel like, in a way, lately, it's almost a crime to love doing your makeup."
It shouldn't be, and that message has now gone viral with the hashtag #PowerofMakeup. Thousands of photos are springing up across Instagram and Twitter as women share makeup looks that cover half of their faces, making a clear statement: Women who love makeup aren't afraid to show their faces, they simply enjoy the act of wearing makeup. 
It's a choice, and one they're happy to make. 
"Don't be ashamed or embarrassed that it makes you feel either a little bit better about yourself or a whole fucking lot better about yourself. It's all about how happy you are on the inside that counts most, and if drag queen makeup does that for you then bloody rock it out." — @donnabennettmakeup
"I love how makeup can enhance one's natural beauty or can completely transform someone. I don't wear makeup to impress anyone but myself, and that's how it should be." — @makeupby_jaz
"Because when someone asks who I'm trying to look good for, my answer is always 'myself.' I wear makeup because it's fun, not to hide my insecurities or to look nice for a boy." — @hajf_05
"#makeupisart #selfconfident #without #makeup" — @makeupbyiliae
"I wear makeup because it's fun, I don't wear it because [I] am insecure or so [people] would like me." — @makeupbyasma
"It is about being comfortable in your own skin, not being ashamed of showing your true self and also to just have fun with makeup." — @camilaxmorales