8 Kick-Ass Tweets From Female Musicians That Shut Down Sexism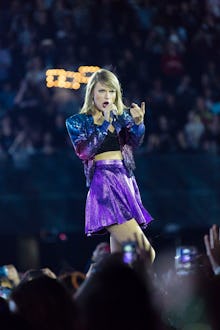 The U.K.'s leading music festival, Glastonbury, opens its gates on Wednesday. But there's a glaring issue: Like so many other music festivals around the world, Glastonbury seriously underrepresents women. The Guardian's data team recently determined that this year's lineup is made up of 86% male performers, and the person in charge of booking acts for Glastonbury told the Guardian, "I'd love to have a bill full of females, but it's just not that easy. It's more complicated than choosing an artist and just booking them."
What's at play here is a deep and persistent sexism that's evident throughout the entire music industry, not just festivals. It's holding back women from being offered headlining spots, and it's even holding back women from picking up instruments in the first place. But among the best ways to deal with the music industry's rampant sexism is to talk about it, and no one does that better than these eight kick-ass female musicians. 
Miranda Lambert shut down "Tomato Gate" to support women country artists.
In response to: Radio executive Keith Hill's nasty comments about women in late May. In a conversation with Country Aircheck, Hill said, "If you want to make ratings in country radio, take females out. ... They're just not the lettuce in our salad. The lettuce is Luke Bryan and Blake Shelton, Keith Urban and artists like that. The tomatoes of our salad are the females."
Miranda's message: "This is the biggest bunch of BULLSHIT I have ever heard," she wrote, and followed up with, "I am gonna do everything in my power to support and promote female singer/songwriters in country music. Always." No one fought back harder than Miss "Little Red Wagon."
Cher schooled Piers Morgan about women's clothing choices. 
In response to: Piers Morgan's sexist, ageist tweets about her and Madonna. Morgan tweeted that he would consider lifting his show's lifetime ban on Madonna if she "put some clothes on," and followed up with, "I'm saying it because no 56-year-old woman should ever prance about in fishnets doing moonies. She looks pathetic." When celebrity blogger Perez Hilton told Morgan that Cher looked pretty kickass in her fishnets, Morgan replied, "She doesn't."
Cher's message: Madonna, and every other woman, can wear whatever they want: "TOO OLD FOR WHAT? THE BITCH COULD KICK ALL OUR ASSES." Then Cher defended herself in the most awesome way, tweeting, "If Piers doesn't want to see fishnets on an old diva's legs... He shouldn't wear them!" Boom!
Ariana Grande called out the media's absurd double standard.
In response to: The media's fixation on her romantic entanglements, and the double standard that imposes on women in the industry. Specifically, after she and Big Sean ended their relationship, tabloids speculated that Grande was romantically linked to One Direction's Niall Horan. 
Ariana's message: "I am tired of living in a world where women are mostly referred to as a man's past, present or future property/possession," Grande wrote in an essay she posted to Twitter. "I know ya'll already know this but the double standard and misogyny are still ever present. I can't wait to live in a world where people are not valued by who they're dating ... but by their value as an individual."
Pink showered her Twitter haters with kindness.
In response to: Trolls hating on the outfit she wore to a cancer fundraiser in April. They tweeted charming sentiments like, "Shut up u uptight fat butch dyke," and "fat people should get mass murdered like the Hall Of Cost that obama bin laden did to the jews." But rather than stoop to their level, the singer killed them with kindness and proved that Twitter haters really are the scum of the earth.
Pink's message: I'm perfectly happy, thank you. "I can see that some of you are concerned about me from your comments about my weight," she wrote, no doubt sarcastically. "I felt very pretty. In fact, I feel beautiful. I am perfectly fine, perfectly happy, and my healthy, voluptuous and crazy-strong body is having some much deserved time off. Thanks for your concern."
Grimes shut down Robin Thicke.  
In response to: Robin Thicke, at the height of his popularity when "Blurred Lines" was all the rage, and all the sexism in the music industry he represents. She tweeted, "I bet Robin Thicke doesn't actually have a big dick." Grimes also posted a lengthy manifesto about sexism in the music industry that same year. 
Grimes' message: Women are not treated equally. "I'm sad that my desire to be treated as an equal and as a human being is interpreted as hatred of men, rather than a request to be included and respected," she wrote on her Tumblr. "I'm tired of people assuming that just because something happens regularly it's ok."
Neko Case took down Playboy. 
In response to: Playboy, when the magazine published a review of Neko Case's album in 2014, and posted it to Twitter with this highly questionable text: "Artist @NekoCase is breaking the mold of what women in the music industry should be." That raises a lot of red flags: What exactly should women in the music industry be? And why should they have to be anything? 
Neko's response: Don't label women something they're not, and don't judge them for being who they are. She tweeted, "IM NOT A FUCKING 'WOMAN IN MUSIC', IM A FUCKING MUSICIAN IN MUSIC!"
But the best part came a little later, after one tweet suggested that Playboy's article was a compliment — which sounds eerily similar to the rationale behind catcalling and other forms of sexual harassment. Case replied, "DONT PEGGY OLSEN ME, MOTHERFUCKERS." Hell to the yeah.
Lauren Mayberry took a stand against online bullying. 
In response to: A series of online trolls who were lobbing sexual threats at Mayberry. She was not going to accept it as par for the course. 
Her message: Objectification, in any form, is unacceptable. In 2013, the singer wrote an op-ed for the Guardian addressing the out-of-hand situation. "What I do not accept," Mayberry wrote, "is that it is all right for people to make comments ranging from 'a bit sexist but generally harmless' to openly sexually aggressive. That it is something that 'just happens.' Is the casual objectification of women so commonplace that we should all just suck it up, roll over and accept defeat? I hope not. Objectification, whatever its form, is not something anyone should have to 'just deal with.'"
Taylor Swift stood up for wombs everywhere. 
In response to: Tabloids that exploit and falsely report on women. In June, Taylor posed for a photo with some fans who were announcing their pregnancy; she held up a sign reading, "Baby's 1st concert" between the happy couple. OK! magazine took it upon themselves to exploit the situation for sales, and according to Uproxx, wrote a (now-deleted) tweet that said Swift had "made a 'pregnancy announcement!'"
Taylor's message: In the most simple yet effective way, Taylor responded with this tweet: "This misleading headline and your choice of words in labeling me are why we need feminism in 2015."